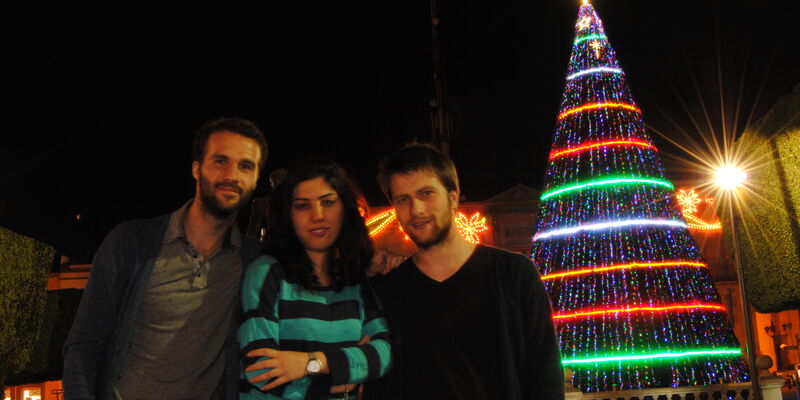 En hoe is het in...Querétaro?
Being architecture students and joining the graduation studio of Cultural Heritage and Sustainability provided us with the opportunity to enjoy the great country of Mexico for three months. For this project we are particularly interested in the UNESCO World Heritage site of Querétaro, the vivid historic center of this city right in the middle of Mexico. Although our graduation project is top priority during our stay here, we try to manage our time in such a way that we can see as much of Mexico as possible.
Upon arrival, the city exceeded our expectations; we expected a less civilized and unsafe city because of some preconceived notions we had before coming to Querétaro. But after a while we realized we were wrong!
The place we are staying at was arranged for us by the University of Querétaro. It's located smack in the historic center of Querétaro, so we we're within walking distance of this lively center with its numerous gardens and plazas. Right away, we were introduced to the Mexicans' friendliness and hospitality. We were lucky enough to get to meet some of them and to get inside tips about enjoying the country and the city in particular.
The plazas serve as regular event locations and free concert venues, the city has a wide variety of restaurants and bars, and people enjoy the attractive night life of the historic center. With Christmas drawing near, they have started the festivities by putting up Christmas trees on the squares and decorating the streets. There is a lot to see during these festivities. For example, one of the popular events is the "feria" that lasts 16 days (1 – 16 December). Here you can taste your favorite food, enjoy the many attractions and shows on site and see concerts of all different kinds of music.
We are studying, eating Mexican food, drinking and enjoying the weather. We're overwhelmed by the rich Mexican culture, and this educational trip has been an amazing experience so far. Trying to make the best of the little time we have here!
Saludos de Mexico!
Mahsa Bagheri, Thomas Henry and Tijmen Stuurman, architecture students