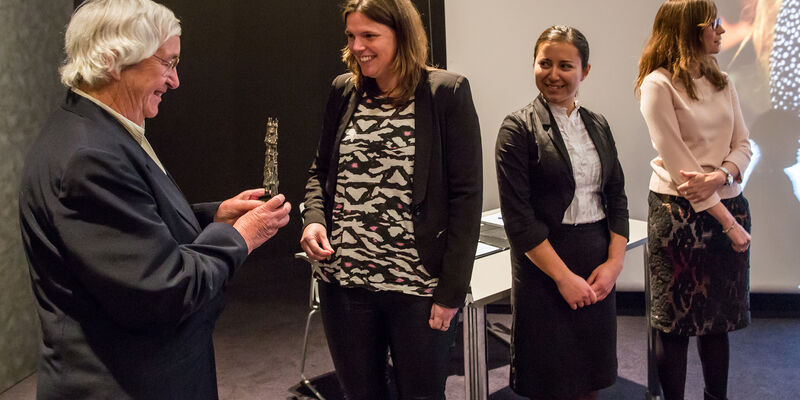 Marina van Damme Grant for development aid
Lieke van Amelsfort graduated from Industrial Engineering & Innovation Sciences in 2008 and has now won the 2015 Marina van Damme Grant. The specialist in supply chain optimization received a 9000-euro check and a statuette, both presented by Marina van Damme herself. Van Damme announced she will continue to award the grant until 2038. In order to continue the grant in her spirit, the Marina van Damme Network was founded.
Before the three nominees could motivate their grant application for the audience – three rows of women and a handful of men – there was important official business to be taken care of first: Marina van Damme and Frank Baaijens signed a document that guarantees continuation of the grant until 2038. Van Damme picked the year because it will mark the one-hundreth grant winner. Every year, TU Delft, University of Twente and TU/e put forward three winners. Today, the 36th winner of the grant will be announced in De Zwarte Doos.
The grant is meant to support ambitious female engineers. The 9000 euros for the winner (and 1000 euros for the other two) must be spent on education that can help a groundbreaking career move. Lieke van Amelsfort is the one who can use 9000 euros to gather extra knowledge. She works at Argus and is specialized in supply chain optimization and collaoration. She's also a board member at Cucu, and has done volunteer work in Kenya, training staff.
"It's my dream to combine my professional expertise with my passion", she says, celebratory glass of wine in hand.