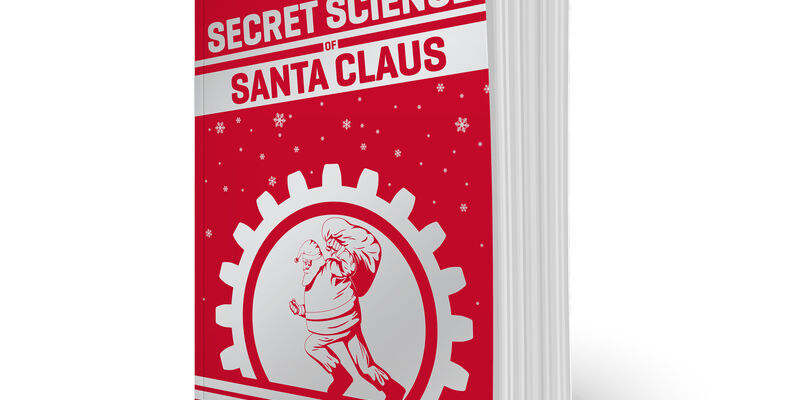 TU/e researcher 'reveals' Santa's secrets
Every year Santa manages to deliver millions of presents all over the world, in a sleigh drawn by reindeer. How does he do it? Barry Fitzgerald (37), postdoc researcher at Chemical Engineering and Chemistry, has attempted to find the answer by taking a scientific approach. His book Secret Science of Santa Claus was published recently. The Irish TU/e researcher has also examined the science behind superheroes in an earlier book.
His own curiosity about the ins and outs of Santa's activities, a fascination since childhood, was his primary motivation for writing the book. "I wanted to answer my own questions. More than anything, I would like to travel back in time and give my seven-year-old self this book. I also want to encourage parents to read my book with their children, so that they are introduced to science at a young age."
In his quest for answers, Fitzgerald both drew on his own knowledge and learned a great deal. He picked the brains of some of his TU/e colleagues. "In my book I present ideas, like how you could clone Santa using 3D printing, so that he has enough help. I had read about this technique before, but for the book I studied it in quite some depth."
The book offers readers answers to questions like, How does Santa travel all round the world on Christmas Eve? and How does he avoid rain and snow storms? This is followed up by a description of Santa in the future. Involving developments like drones and delivering presents on Mars. "In my book I have brought Santa Claus out of the nineteenth century and into the twenty-first century by giving him much more sophisticated technology."
In recent weeks, the Limerick-born Irishman has been publicizing his story in his native country, where his itinerary included primary schools and high schools. He also opened Science Week. "I have been asked so many smart, entertaining questions in response to my explanations. One of the most touching came from an eleven-year-old who remarked, "So Santa really does exist.".
The enthusiastic scientist has also already started working on a new book. He is happy to reveal some details: "It will be about villains, but with a twist."
Read more about The Secret Science of Santa Claus in the next edition of our paper magazine, Cursor 7, that will be coming out 15 December.
The book Secret Science of Santa Claus is available via www.secretscienceofsantaclaus.com and www.bwscience.com. On January 11, 2017 Fitzgerald will be giving a lecture about his first book Secrets of Superhero Science at Studium Generale.