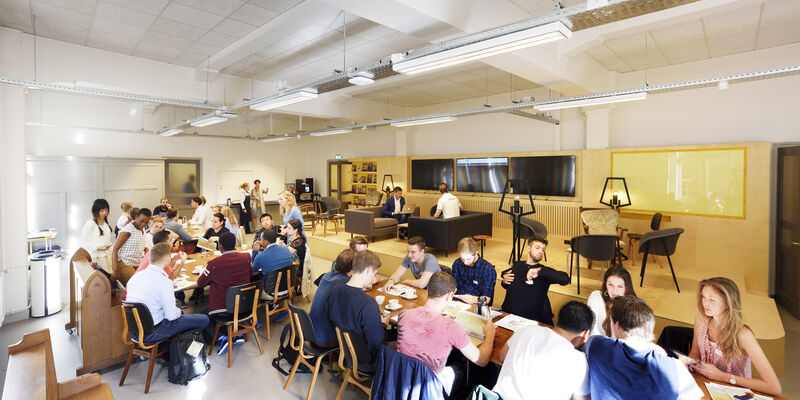 Student

,

Campus

05/09/2016
Students and staff members pioneering at JADS
Monday morning the first draft of Jheronimus Academy of Data Science (JADS) started its introductory period in and around Mariënburg in Den Bosch. Emphasizing that "everything is new", Willem-Jan van den Heuvel, Program Director of the Master Data Science & Entrepreneurship, asked students to make sure they give feedback. "We are hoping for interaction so that we can learn from each other."
The 15 pre-Master, 16 Master and 7 PDEng students will be getting to know each other in particular during this week. The eight women and thirty men come from widely different backgrounds; for instance, they got acquainted with Artificial Intelligence, Econometrics or Industrial Engineering in their previous education. They come from all parts of the Netherlands, and from all corners of the globe.
Thus, Mazena Zachazevska is from Lithuania, where she studied Economic Analysis. This is her first week in the Netherlands. "I did not really have a wide choice in my search for a study of data science. It is quite new. I inquired in Poland, but linguistic and bureaucratic annoyance made me decide to come to Den Bosch." The pre-Master student rents a room in Tilburg.
This afternoon, the students will visit the mayor in the town hall of Den Bosch. Afterwards, they will meet speakers from trade and industry. "We are pragmatic and are in close contact with the market", Program Director Van den Heuvel adds in his word of welcome. Wednesday they are going to do a case study with data sets. "The program is rather serious", according to Master student Van Leeuwen.
The students are also going to stake out the city. In addition, the program features a boat trip and the climbing of the stairs in the tower of Sint Jan's Cathedral. And the Program Director hopes that when they have their closing dinner on Thursday they can tell him how they like the flavor and texture of the 'Bossche bol'.
Cursor 1, due to appear on Thursday September 8, will feature a long article on JADS.