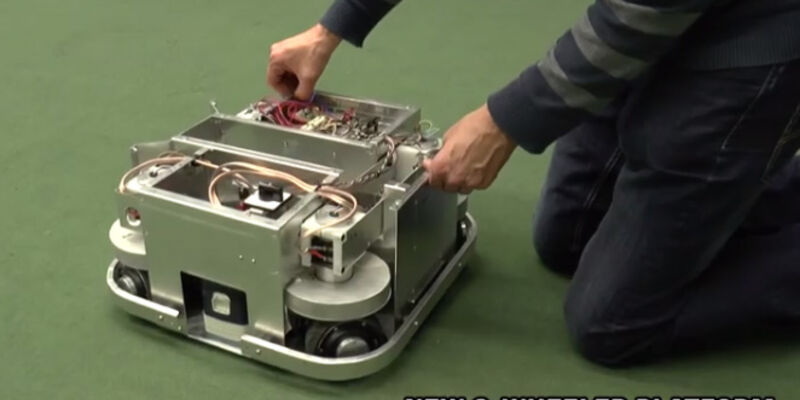 Research

,

Student

24/04/2017
Tech United builds superfast and strong soccer robot
Tech United, robot soccer's world champions of 2016, has added a really strong, very fast player to its team this year. The new, 8-wheel robot will do its first tests at the upcoming Portuguese Robotics Open, and is expected to make its debut in the team at the World RoboCup in Nagoya (27-30 July). A striking fact is that the undercarriage of this robot will also be undertaking autonomous heavy-duty work in hospitals, like moving beds.
The Tech United soccer robot team may have been crowned world champions last year but the Eindhoven technicians noted a couple of weaknesses: their main rivals were that bit faster and managed to push aside the Eindhoven robots a little too easily.
The team therefore got together with the Drunen-based company SMF Ketels to develop an entirely new platform, with eight rather than the current three wheels. The eight wheels not only give the robot a lot of and speed, they also make it extreme stable and maneuverable at high speed.
Other improvements that should help Tech United to a fourth world title this year include the software architecture. This was turned on its head last year to enable the robots to respond better to opponents and to the match circumstances.
Team coach Lotte de Koning: "We will be testing it out this year especially during the dead-ball situations like free kicks, and then for the whole game. It will take a couple of years before it has matured." Over the past year the robots have become smarter in defense and in intercepting passes.
The new 8-wheel undercarriage is the result of the European Ropod project, in which TU/e participated along with SMF Ketels, the Hochschule Bonn-Rhein-Sieg and KU Leuven, among others. The aim of Ropod was to develop affordable, human-friendly robot carts that are able to autonomously and flexibly perform transport tasks within hospitals, such as moving hospital beds.
The new robot will be tested out for the first time in this year's initial tournament, the Portuguese Robotics Open from 26 to 30 April, but won't yet be taking part. The team will be monitoring whether the robot is able to perform autonomously, and it should also become clear exactly how fast the robot is. The team expects the robot to be around four times faster than its predecessor.
The results at the tournament in Portugal can be followed on techunited.nl, with a live stream available.
Source: TU/e press team