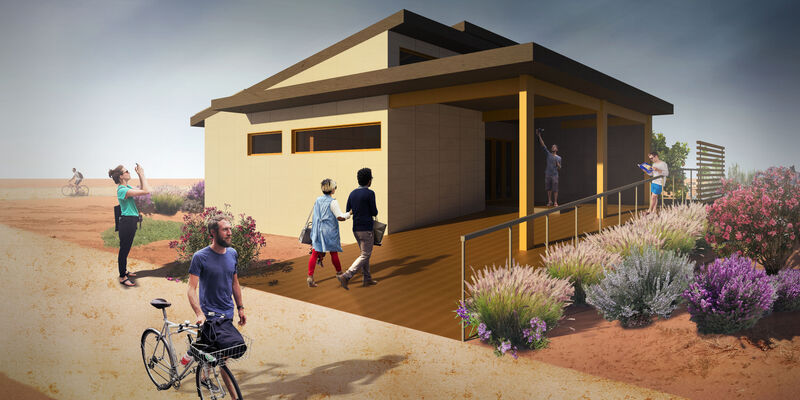 VIRTUe keen to "link everything" in smart, sustainable house
After the summer vacation student team VIRTUe hopes to present the overall design of its house of the future, with the final construction plans following at the end of 2017. 'LINK' is the name of the structure these TU/e students intend to be the world's most sustainable house, which they will build in Dubai in the fall of 2018. This project is all about linking various smart and sustainable gadgets, as well as people and technology.
The exact layout and furnishings, the materials used, the applied technologies - all this still needs to be decided and specified in the coming months, in consultation with the planned partners. But team VIRTUe's concept is now definite and it is called LINK, tells PR man Alex Donkers. "We believe there are opportunities to be had in linking everything: person to person, intertechnology, and people and technologies. We want to completely redefine the notion of living in a home."
Many buildings are already equipped with the necessary technology, from energy meters to lamps with motion sensors at the front or back door. But as yet interdevice communication is a rare phenomenon, says Donkers. "In our house we want to combine all these systems in a single smart system, a kind of house robot. And, in turn, we want to use that system to boost the domestic comfort and make gains in sustainability."
In addition, the human element and the engineering will have to understand and complement each other optimally. "You will soon no longer need to think about many processes at home because your house will do that for you."
For the time being the students (mainly from TU/e, but also some from Fontys and Wageningen University) are assuming they will build a timber frame structure - relatively cheap, light and sustainable, explains Donkers. The house will be one storey, good for a floor area of about 68 m2.
The dining room, from which all the other rooms are visible, forms the heart of the house. A fundamental requirement is that the house draws nothing from the mains electricity supply. It fact, it must be energy positive. VIRTUe tends to work mainly with existing technologies, but will also keep an eye open for opportunities to apply innovations not yet on the market.
After this coming summer the students hope to present the overall design for their house and system. This will be followed in December by the final, detailed construction plans. All the teams are bound by "tight deadlines" set by the organizers of the Solar Decathlon, and against which they are already been assessed, explains Donkers.
The students hope to fully construct their house one time in advance of the competition, in the Netherlands in the spring of 2018. That will give them a couple of months to work on testing, measuring, analysis and making improvements.
Participants in the Solar Decathlon will soon have ten days in Dubai to spend constructing a fully furnished and functioning house, right down to the coffee-maker and an electric car standing in the driveway. The houses will then be assessed over a ten-day period on the basis of various elements and assignments.
Eetkamer centraal
Vooralsnog gaan de studenten (vooral TU/e'ers, maar ook enkele studenten van Fontys en Wageningen University) uit van een huis in houtskeletbouw - relatief goedkoop, licht en duurzaam, aldus Donkers. Het huis krijgt één woonlaag, goed voor circa zesentachtig vierkante meter vloeroppervlakte. De eetkamer vormt het hart van het huis, met zicht op alle andere ruimtes daaromheen. Voorop staat dat het huis niks van het stroomnet mag vragen en zelfs energiepositief moet zijn.
VIRTUe wil vooral gaan werken met bestaande technologieën, maar mikt ook op het toepassen van innovaties die nog op de markt moeten komen. Welke dit worden, is nog onderwerp van gesprek, ook in afstemming met potentiële partners. De bouwwereld is van oudsher traag, stelt Donkers - maar na de crisis beseffen veel bouwers volgens hem terdege dat verandering nodig is en dat input vanuit andere (technische) disciplines daarbij onontbeerlijk is. "We zoeken partners die onze visie op een duurzame wereld delen én die een verandering teweeg willen brengen."
Dat neemt niet weg dat het team, behalve de support van gelijkgezinden, ook gewoonweg geld nodig heeft om zijn duurzame droom te realiseren. Hoeveel precies, dat durft Donkers op dit moment niet te zeggen. "We zitten nog in een conceptuele fase; dat zou echt nattevingerwerk zijn."
VIRTUe hoopt na komende zomer het globale ontwerp van zijn huis plus systeem te presenteren, in december gevolgd door de definitieve, gedetailleerde bouwtekeningen. Alle teams zijn in dat opzicht gehouden aan "strakke deadlines" vanuit de organisatie van de Solar Decathlon, die de deelnemers ook hierop al beoordeelt, vertelt Donkers. Verzaken betekent minpunten.
De studenten hopen hun huis in het voorjaar van 2018 in Nederland al een keer volledig op te bouwen, om vervolgens een paar maanden te kunnen testen, meten, analyseren en verbeteren. Donkers benadrukt dat de omstandigheden hier wel anders zullen zijn dan in Dubai, alleen al kijkend naar bijvoorbeeld de luchtvochtigheid of de stand van de zon - allemaal factoren van belang voor het 'runnen' van een zo duurzaam mogelijke woning. Hij hoopt dat de Nederlandse zomertemperaturen in elk geval in de buurt zullen komen van de vijfentwintig tot dertig graden van de Arabische winter in Dubai, in oktober en november.
Deelnemers aan de Solar Decathlon hebben straks in Dubai tien dagen de tijd om een volledig ingericht en functionerend huis neerzetten, tot een koffiezetapparaat en een elektrische auto naast de deur aan toe. De woningen worden vervolgens tien dagen lang beoordeeld op verschillende onderdelen en opdrachten.
Overal toepasbaar
Het proof of concept dat de studenten in Dubai gaan laten zien, is vooral geënt op de Arabische markt, met expats als voornaamste doelgroep. "Maar we willen een systeem maken dat uiteindelijk overal kan worden toegepast: in verschillende omgevingen en voor mensen met uiteenlopende inkomens." Want VIRTUe zou nog zo'n fancy en kostbaar concept kunnen neerzetten: "Daarmee wordt het minder geloofwaardig voor de gewone burger die er uiteindelijk in zou moeten wonen."
VIRTUe is in 2018 in Dubai het enige Nederlandse team. Al zijn de 'regionalen' in het voordeel omdat ze al bekend zijn met de Arabische cultuur, Donkers ziet bovenal kansen in de frisse Nederlandse benadering en insteek. Hij wijst op de sociale problematiek in een stad als Dubai, waar mensen redelijk afgesloten van hun omgeving wonen. "In Nederland bouwen we vrij open. Er is redelijk veel contact tussen huizen onderling en met de straat; de gevelvoorruiten zijn hier groot, gordijnen vaak open. Je kijkt zo bij een ander de woonkamer in. In andere landen vinden ze dat heel gek."
Op het werk van de concurrentie in die andere landen heeft Donkers trouwens niet zo'n zicht, "niemand gooit zijn technische tekeningen online. We bouwen in de eerste plaats vooral ons eigen ding. En uiteindelijk gaan we allemaal met hetzelfde doel naar Dubai - en dat is de wereld een stukje duurzamer maken."