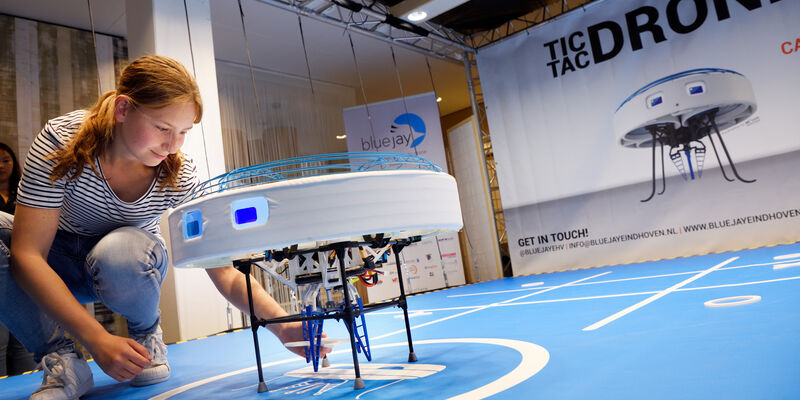 TU/e drone passes playful test in hospital
Sixteen-year-old Sam Schellekens from Veldhoven had the opportunity Thursday in hospital to take on a drone in a game of tic-tac-toe. She is one of the few people ever to do so, certainly in the Netherlands, probably in the world. For press and partners, TU/e student team Blue Jay gave a demonstration in the Maxima Medical Center. Sam thinks the airborne hospital aid does have potential, "so long as people also carry on working here".
by
Monique van de Ven
The simple yet classic game of tic-tac-toe would not usually be expected to draw an audience of any great size - but that was not the case in the Ronald McDonald Lounge of the hospital in Veldhoven on Thursday afternoon. Camera crews and reporters (including those of the BBC and RTL) as well as representatives of the hospital and of Blue Jay's industrial partners were invited to see the student team's domestic drone in action.
Veldhoven resident Sam, who has been coming to the hospital every three weeks since her birth for a blood transfusion, is one of the drone's first opponents. Its own camera and the lamps hanging above the marked-out field of play enable the drone to find its way round the board. By blinking at a certain frequency, the lamps let the drone know which moves have already been made. The drone itself then decides its next move.