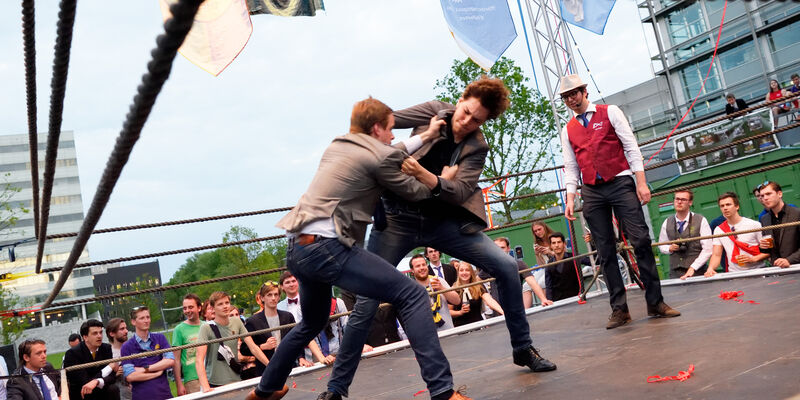 "The best 'bras' is a friendly bras"
Sietse Wolberink of independent society HenK is entitled has won the right to call himself 'student wrestling king' of Eindhoven for the coming year. In the closing battle of the First Eindhoven 'Bras' Gala, hosted by study association Simon Stevin, he faced scant opposition from his fellow finalist Mitchell Multem van Lucid, who he maneuvered to the floor within three seconds.
by
Monique van de Ven
'Cheerfully aggressive' is perhaps the best way to describe the atmosphere on the Flux field Tuesday evening. In the ring the going often gets really rough (even including a bloody nose, a thumb bent double and the participants' genuine need to catch their breath); from the other side of the ropes encouragement is screamed at full volume and with fevered enthusiasm. "Throw him in the air!", "Take him home!"
It is Wolberink's fellow society members who are the really loud ones, and as the final approaches they show little sympathy for their friend's forthcoming opponent. But Wolberink, physically formidable as he is, is not in destroy mode. He wants to win, of course he does, his judo experience, among other things, has fuelled his competitive spirit ("my grip and balance certainly give me an advantage "). But the best game of brassen, as this student wrestling tradition is called in Dutch, is a friendly one, believes the Management sciences student. "And afterwards you drink a beer together and instantly you get to know someone. Isn't that great?"
Earlier in the evening he had the opportunity to meet other new faces in the ring, including Tess Ernest; she and Lotte Pleging are the evening's only female participants. The women - representatives of E.S.C society Ourea - boldly held their own against the men in their first round matches (who were allowed to use only one hand), but had to concede defeat in the next round.
Admittedly without strong regrets: "I was ready to stop," says Pleging, who after the last match is quick to swap her wrestling jacket for a dress - after all, the night is still young. After an earlier undecided skirmish, she had to down in one a half liter on stage and that didn't do her endurance any good, she reveals. After her bras debut, her fellow society member Ernest concludes: "It is great fun but really tiring. I didn't even expect to win a single round."
Before the final has even started, the chairperson of Simon Stevin, Sebastiaan van Kemenade has already made up his mind: the First Eindhoven 'Bras' Gala deserves a follow-up. "We will definitely be doing this again next year ".
Did you miss the event? Take a look under 'Videos' on our Facebook page. Are you unfamiliar with the whys and wherefores of this tradition of traditional student wrestling? Click here for an explanation in Dutch.