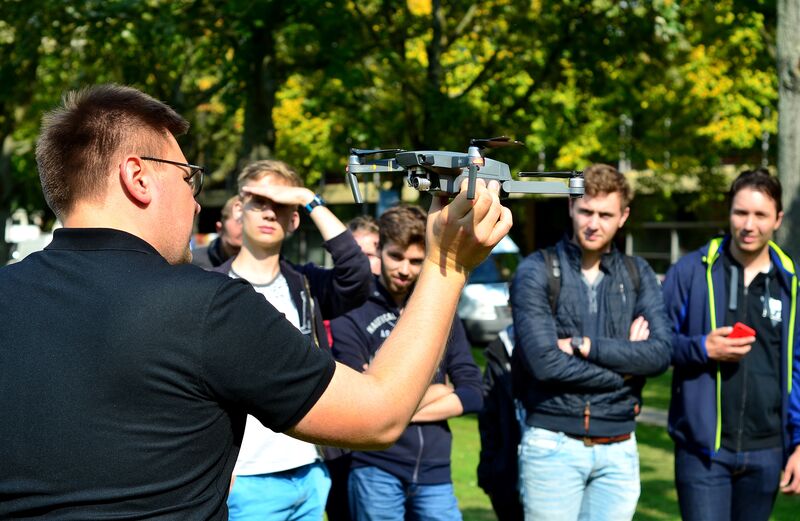 Flying on campus
In the United States alone more than one million pilotless aircraft are now flying around. Better known as drones, these are an interesting development not only in terms of technology but also for safety and privacy reasons. That was the feeling at Studium Generale, and it was reason enough to have drone manufacturer DJI give a lecture in the Blauwe Zaal, followed by a workshop at a quiet spot on campus.
by
Tom Jeltes
Lithuanian Tautvydas Juskauskas, Public Business Development Manager of the European branch of DJI, naturally took advantage of the opportunity to paint his company in a good light. This Chinese company controls no less than 70 percent of the market for consumer drones, he said, and is particularly good at stabilizing its 'quadcopters' such that they can take the most stunning aerial photos. "In China people are very proud of us, partly because we are clearly not copycats – of our 11 thousand employees, 6000 are in the R&D department."
Next, Juskauskas gave a number of examples of useful drone applications, including estimating the risks associated with fires in apartment buildings, and the inspection of critical infrastructure after a natural disaster such as the recent hurricane Harvey in Houston.
During the question session at the end, issues relating to privacy and safety were raised. According to Jaskouskas, DJI has set up no-fly zones – around airports, for example – where drones can never take off. He also said that DJI's drones will soon be able to fly 'offline', so that no information at all is passed on about the drone's position.
At the workshop for a good twenty interested people, held later in the afternoon on the field behind the Multimedia Pavilion, only one drone at a time took to the air. Moreover, it flew in 'coach mode', so that instructor Dino van Essen of DJI dealer DroneStars could take over the controls in the event of an emergency.