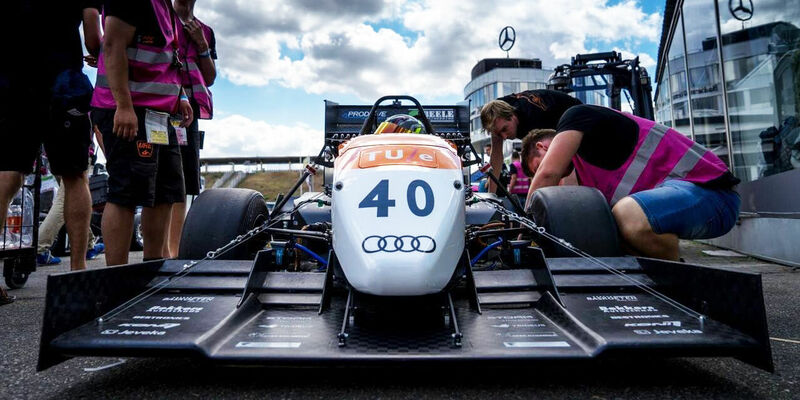 URE fifth in Germany with 'best car ever'
University Racing Eindhoven (URE) can look back with pride on Formula Student Germany - traditionally the most important competition in the racing season. The TU/e team achieved fifth place in the overall class for electric cars. The event organizers rated Eindhoven's 'URE13' as the best car the team has ever produced.
The Netherlands' best team and fifth in the world. Alex Pap, URE's chief financial officer, points out once again why the team looks back with huge satisfaction on 'Germany', where this past week a total of 115 teams (40 of which in the electric class) appeared on the starting grid. According to Pap, the performances attained this season are due mainly to the rapid tempo in which the URE13 has been built over this past year. "It meant it wasn't long before we were testing and were able to resolve the teething troubles."
Read on below the photo.
After Formula Student Netherlands in Assen, where in mid-July the team achieved third place in the electric class, the team had actually planned Hungary as its first appearance. But URE decided to pass over that competition in order to tackle some outstanding technical challenges and to focus fully on Germany.
It proved a wise decision, in view of the results achieved in Germany and the organizers' emphatic praise of the URE13. Pap: "We already knew that it was a really nice car, former team members and others have told us that. The car is nicely finished and, above all, reliable. That has to be the key word."
Read on below the photo.
It terms of their mechanics, it must be said, URE's earlier cars were also "reasonably reliable," Pap emphasizes, "their electronics not yet though. Always being able to cool the car, more specifically the battery, was always a tricky proposition." The URE13 has a more extensive battery pack than its predecessors, he explains, "with more space between the cells. So we can cool the battery better and continuously using air, which in turn enables us to drive at increased power."
The team is currently preparing for its third and last competition of this season, to be held next week in Spain. There too, they are aiming for a top-five placing.