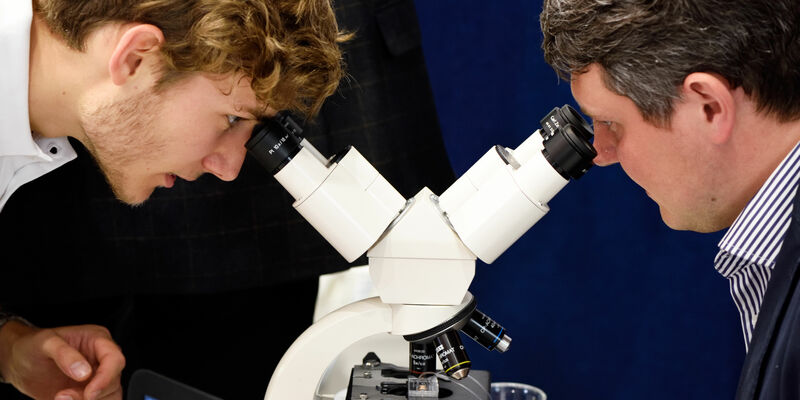 Research

,

Student

16/02/2018
Biosensor competition for better treatment of bacterial infections
Student organization SensUs, which organizes an international student competition on biosensors in Eindhoven every ear, is starting the search for a better treatment method for bacterial infections. The theme for 2018 is 'Measuring antibiotics for better healthcare'. Thirteen teams are going to make a biosensor to measure the antibiotic vancomycin in blood.
Physicians regard the antibiotic vancomycin as a last resort in case of infection with the hospital bacterium MRSA, for instance. While antibiotics are used widely all over the world, they come with a large number of drawbacks. One important drawback of antibiotics is that bacteria can develop resistance to them. Infections involving resistant bacteria are more difficult to treat, which makes it all the more important for such an ultimate remedy as vancomycin to be applied as efficiently and effectively as possible.
However, the amount to be administered differs per pathogen and per person. "Vancomycin is a very powerful antibiotic and is unfortunately very difficult to dose appropriately", says Rutger Van Doorslaer, a member of SensUs and a student of Biomedical Engineering. "Too high a dose may be accompanied by side effects that can be as serious as kidney damage. If the dose is too low, the medication is not efficacious and there is a greater risk of the bacteria becoming resistant."
As individual patients react differently to this antibiotic, it is important to measure the vancomycin level regularly. At present this can only be done by testing a blood sample in a laboratory. "That takes at least one day and, to make matters worse, is done by very expensive and stationary devices, which is very awkward for certain groups of patients and doctors alike", Van Doorslaer explains.
Better healthcare
SensUs hopes that an innovative biosensor will be developed in the competition it is organizing. Four intercontinental countries and nine European countries are competing. Team T.E.S.T. from Eindhoven, not to be confused with the organizer SensUs, is one of the contestants.
In September every team will present a working biosensor during the SensUs event. Apart from participants and secondary school pupils who have been invited, several companies will also show up to look at the innovative ideas. In addition, a livestream will be set up with a wide range.
There are a number of different prizes to be won, says Van Doorslaer. "For example, there is the Public Inspiration award and the Analytical Performance award. People attending the event can vote and the jury has a strong influence, but online voting is also possible. This year we want to reach 5000 online voters in the digital platform and 15000 visitors to the livestream."
The first edition of SensUs took place in 2016. It focused on the substance creatinine, which is related to kidney failure.
Archive photo | Bart van Overbeeke