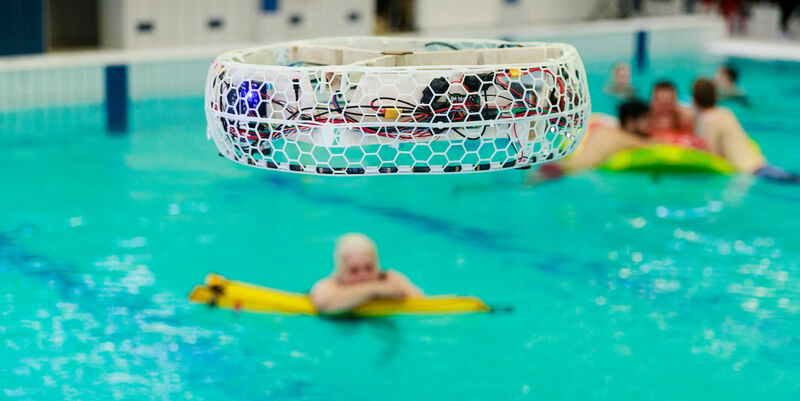 Research

,

Student

19/06/2018
Blue Jay drone to recognize and help drowning persons
This Tuesday afternoon student team Blue Jay presented its latest prototype, designed to recognize a person at risk of drowning in a swimming pool. This Flying Lifeguard Assistant provides the lifeguard with an extra pair of eyes and can assist with aiding and saving a victim.
Despite all the swimming lessons, on-duty lifeguards and active security cameras, swimmers still get into difficulties and, in the worst case, become drowning fatalities in Dutch swimming pools, knows Liza Boormans of Blue Jay. For its latest prototype the team worked with experts including the Eindhoven Rescue Brigade, who gave them an insight into the dangers and statistics.
Blue Jay is convinced that in a wide range of emergency situations drones can play a useful role. "We've now translated this idea to the swimming pool. Above all because of the social relevance but also because the noise produced by a drone is less of an issue in these surroundings - unlike, say, in a hospital. This can distract from our essential message while we are trying to get people to focus on what a drone can do."
NXP, Blue Jay's main partner, put the team in touch with IBM for this latest project. "We worked with them on machine learning. This means that with the help of a huge number of video images we taught the system to see what a drowning looks like."
Sixty thousand short recordings
No fewer than sixty thousand short recordings (made in various regional indoor swimming pools, using volunteers including the trained 'victims' of the LOTUS organization) were involved. These were then watched and classified manually by Blue Jay members. Boormans: "In this way the drone learned how to recognize certain human movements and patterns while roaming over a swimming pool and scanning the scene from above. Head under, head above the water, certain arm movements and other signs like gasping for air."
Read on below the photo.
Blue Jay is busy testing its new system in various swimming pools in the neighborhood, including in the Student Sports Center. Having the drone fly unaided over water proved another challenge. "The drone needs firm ground beneath it in order to establish its height. Water reflects, so we were keen to get it flying over water pretty quickly to find out what it would interpret as the ground. The floor of the swimming pool or the water surface or somewhere midway. We started by setting up a children's paddling pool in our testing area and when we knew for sure that the drone was detecting the water surface, it was time for the next step: a real swimming pool."
Tests were recently carried out involving persons simulating drowning. Other experiments, such as taking a life buoy to a person in need, are also underway. "A life buoy weighs about 700 grams, the drone itself about 2 kilos. So that is another challenge."
Proof of concept
Today in the swimming pool of the Student Sports Center, Blue Jay presented its 'Flying Lifeguard Assistant' to partners, media and other interested parties. In community café Hubble in Luna the team afterwards held a Tech Market for the wider public.
About this afternoon's demo, Boormans says emphatically: "We wanted to show a proof of concept. This definitely isn't yet a commercial product. But in conversations we are noticing that people think it is a really interesting idea."