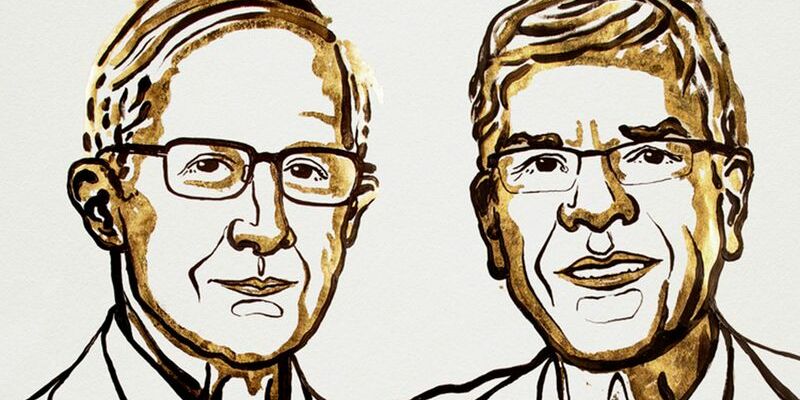 At first glance, the two winners seem fairly unrelated, except that they both study the global economy and its developments over the long term. One of them has focused on climate change, the other considered the role of knowledge and innovation.
In the 1990s William D. Nordhaus (1941) developed a framework in which the economy, CO2 emissions and climate change impact each other. Thanks to his work it is easier to account for the consequences of the greenhouse effect. Nordhaus argued for a worldwide tax on the emission of CO2 in order to make the costs of the damage hit home.
Ideas
Paul M. Romer (1955), who has worked for the World Bank, has unraveled how knowledge and innovation help countries develop their economies. This required a new understanding of goods and services. Unlike a regular raw material, ideas are never exhausted and can be used by everyone at the same time. What effect does this have on the economy?
When Romer responded by telephone to receiving the award he said he had built on the work of Nordhaus. He also spoke in support of optimism and vigorous, decisive action. People can achieve fabulous things, he said, whether to do with climate change or the problems involved in migration.
Some critics believe that economics undeservedly presents itself as a hard science that should be considered comparable to fields like physics and medicine. Among those who have argued for the abolition of the Nobel Prize for Economics is the Dutch journalist Joris Luyendijk, who as an anthropologist investigated the banking sector in his book Dit kan niet waar zijn ('This Cannot be True').
Jubilee
The Nobel Prize for Economics was not instituted by Alfred Nobel, but by the Swedish central bank. This year it is being awarded for the fiftieth time. The Dutchman Jan Tinbergen was the first person to win it, together with the Norwegian Ragnar Frisch. The only other Dutch winner came in 1975: Tjalling Koopmans shared it on that occasion with the Russian Leonid Kantorovitsj.