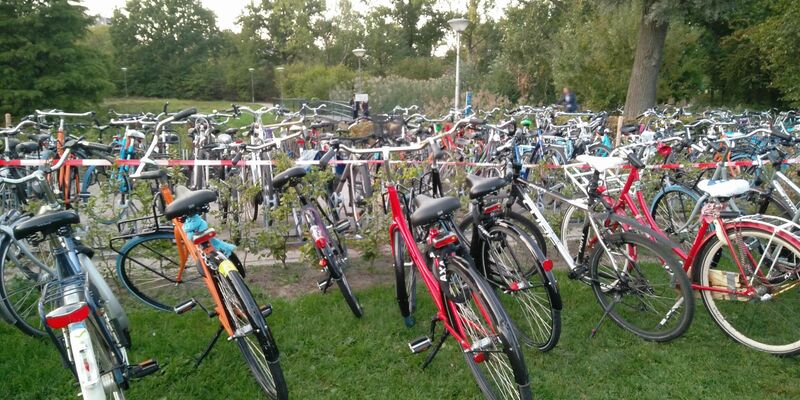 The University

24/09/2018
More bicycle racks - and one less tree
Before the end of the year, the TU/e campus will gain more than a thousand new cycle rack spaces. The Atlas building will gain more new bike parking than anywhere else; an extra row of cycle-friendly racks will appear outside a couple of other buildings. At De Zwarte Doos the development will be the most visible, involving a change to the planting.
It's a clear trend: more and more employees and students are coming to TU/e by bike and they must be able to park their bicycle somewhere. Bikes not placed in one of the designated racks will be collected by TU/e's ground stewards, as happened last Tuesday, and removed to Laplace Square, near the kiosk. More than the current number of 9,500 rack spaces are needed.
To provide the solution, Bicycle Project 2018 has been set up: at Luna, Atlas, Helix and De Zwarte Doos more (or new) bicycle racks will be installed. Similarly, more racks will be placed on the cycle path along the Dommel, near the bridge to the tennis courts. Luna will get an extra row behind those already there, on new paving covering what is now still grass. Beneath Atlas, once the building is in use, there will be enough capacity for more than 900 bicycles. Outside, on the west side where there used to be car parking, racks for some 500 bicycles will be installed.
Cycle-friendly rack
The covered shed at Helix will get new racks but no additional ones. Cycle-friendly ones, which means that the bicycle is supported not at the wheel but at the front fork, that the space is a little wider and that a lock can be attached. These new racks have already been placed outside the newest buildings and in part of the bike shed in Auditorium. In time, this more expensive type will be everywhere on campus.
De Zwarte Doos will gain another bike shed (for 144 bicycles), running along its left-hand side wall. This will be accessible by a paved path leading from the Limbo path. The rhododendrons that did not survive this hot, dry summer will be removed. MTD Landscape Architects in Den Bosch has produced the design and the work has already been commissioned.
Likely to be felled by the wind
A problem that can be resolved with the arrival of this new cycle shed at De Zwarte Doos is something that has bothered groundsman Thijs Mooren for some time now. A desire path has appeared outside De Zwarte Doos. Created by pedestrians keen to cut off the corner they were supposed to take on the pavement. Instead their route has taken them between five sugar maples. That path has to go because Mooren is worried that it is preventing an exchange of gas and air necessary for the tree roots.
"These trees are very special. They may be as old as the university itself." More of them can be found on the other side of the Limbo path. Standing by the entrance to De Zwarte Doos is a sugar maple that has been affected by Giant Polypore. "This is a fungus that attacks the roots. As a result the tree, and this one is 27 meters tall, can be felled by the wind. This presents a hazard because a storm could bring it down. The work instruction has already been given to have it removed." A regrettable matter, says Mooren. "You'll understand that we want to protect every sugar maple that it is within our power to protect. So no more desire paths." A shrub form of ivy will be planted to prevent them.