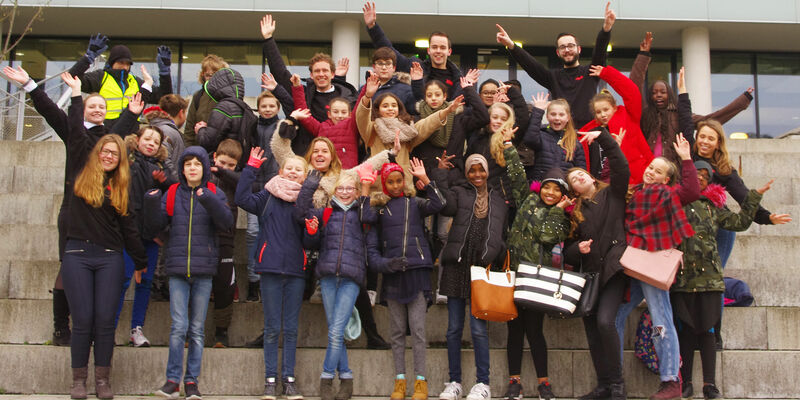 A solar car made of pencil fillings
On Wednesday morning, elementary school children from child center Theresia visited TU/e where they were given a tour of Solar Team Eindhoven. The excursion is part of a collaborative project between student investment society B&R Beurs Eindhoven and Stichting Move.
Which animals have the same flowing, aerodynamic shape as solar car Stella Vie? Will solar cars one day be the only cars on the road? But also: "Is that kangaroo?" in response to a photo of Solar Team Eindhoven's breakfast during the previous World Solar Challenge. Children often come up with some unique questions and insights.
Team member Marije Sesink uses simple language to explain that the body of the car is made out of carbon. "Carbon is actually the same material as the filling of a pencil. We use several layers of filling and that's how we make our car." "But isn't that material very soft?", one of the children asks hesitantly. Sesink's presentation partner Vincent Bolta compares the car's construction with lasagna, which also has several layers and is put in the oven: "Then it gets really solid and strong, but of course that's not how you want your lasagna."
Five-million-euro car
One of the boys has a very specific question: "Does that mean that the car is really expensive?" Bolta laughs. "We are not allowed to tell you, but you couldn't afford it," he says with a wink. The schoolboy from Strijp won't be fobbed off and insists: "You say I can't afford it, but how much is it?" Bolta makes the children guess (Fifty thousand euro? A million? Five million?) and cleverly ends the discussion by saying: "Come and join our team in a few years and you'll find out."
Read on below the photo.
Eleven-year-old Dieuwertje is excited about the visit to TU/e. She saw the solar car on the news before and now she stands face to face with it in the workshop (that is: with predecessor Stella Lux, because Stella Vie is off-campus). Does she see herself build a trendy car like that in the future? Dieuwertje laughs timidly. "Not really, I'm not very good at those kinds of things. I would rather be a veterinarian or a biologist."
What the schoolgirl finds even more exciting, is the addition to the playground near school thanks to student investment society B&R Beurs Eindhoven and Stichting Move. "It's nice that we children were allowed to give our opinion for once, usually the adults decide." In a few weeks, the playground will have a ping pong table that was painted by the children themselves and perhaps one or two more, depending on how munch sponsorship money B&R manages to collect through its network. The children make their own modest contribution by returning bottles and collecting deposit money.
Lecture on saving money
After the visit to the solar car workshop, the children stroll around campus - some 'student watching' in MetaForum and then on to community café Hubble for a drink. This is followed by "a short lecture" by B&R board member Sascha Scholte, who admits that she is "quite nervous" - teaching primary school children something about finances is no easy task. Scholte will not bother the children with complicated investment talk and mostly hopes, after doing her own homework at institutes such as the National Institute for Family Finance Information (Nibud) to impart the importance of saving.
Read on below the photo.
Scholte is glad with the collaboration between Stichting Move and child center Theresia. Because it is fun and informative, and because it contributes to the unity and cohesion within B&R. The student investment society, which was founded three years ago, is still a relatively young organization with a current membership of about a hundred students and a reasonably swift turnover so far. "We notice that participating in a project like this together works really well." And, board member Laurens Jansen adds: "Many students also live in Eindhoven. This way, we can give something back to the community."
The activities B&R Beurs has organized for and with the school is not the first collaborative project between TU/e students and Move. Last year, members of student climbing and alpinism association ESAC joined forces with primary school children to come up with, and partly carry out, ideas to help create a better neighborhood.