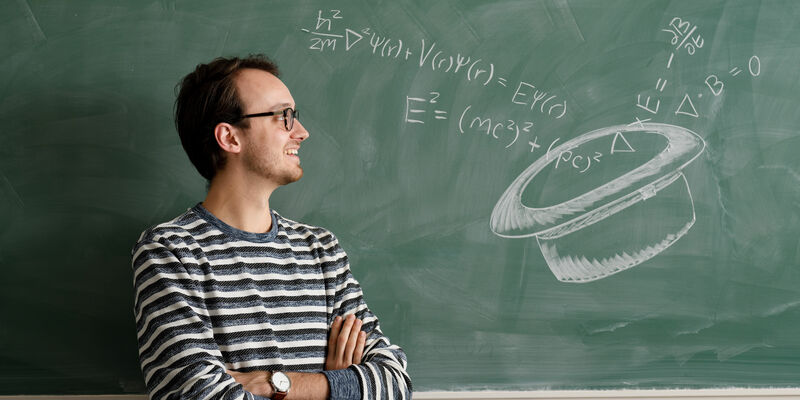 Hot Seat | "I have always known that I wanted to teach"
Joep Nieuwdorp has a thing for both philosophy and physics. The course Psychology & Technology was even too psychological for him; he quitted after six months. At Applied Physics he completely felt at home and now he is doing his master there too. Though he keeps his studies on a back burner ever since he has become secretary on the board of FSE last October. Joep actually wanted to sign up for the Hot Seat, but we were ahead of him.
What is your favorite place in the house? And why?
"That would be the room of a roommate. For me, that is more the common space than our actual common space. That is actually because there is a nice big television on which we watch series and films. Our student house is very cozy anyway. The doors of all the rooms are always open, so we regularly interact."
To which pressing question would you like the answer?
"That is quite difficult. You then quickly think of things like 'where are things going?' And 'what is the goal?'. I like to deal with questions like these, for example about happiness. Because everyone wants to be happy, but how does that work? I want to be happy, which is actually quite selfish."
"I like both phylosophy and physics. I would like to have an answer to how life will be in the far distant future. What will it look like? I think that question concerns both philosophy and physics. But I do not know if I really want an answer to that question."
Which course would you like to teach?
"I think that's a very nice question! Because I've always known that I wanted to teach. I think teaching is the best job there is. Some people can convey difficult subjects in an understandable way, which I find very special. Being able to share your intelligence with others or to teach others something is wonderful."
"The subject that I eventually would like to teach is quantum physics. For me that is the essence of physics. Before that time, in high school, you will learn the basics. But in quantum physics I became even more enthusiastic about physics."
Who or what touches you the most?
"I do not have to think about this for long: my parents. They split up when I was seven years old. I was always fine with that, I saw the positive side. Such as: celebrating Christmas twice and going on two holidays. With my mother I can talk about anything because I'm so much like her. And when my father tells me that he's is proud of me, that means a lot to me. It's not that my parents touch me in the way that I am constantly emotional with them, but I respect their opinion very much."
Who would you like to ask a question and what question would that be?
"I think I can only answer this at the end of my life. When I know everything there is to be known for me. What is left then will be my question. This one is also a bit similar to question two, so I'll leave this one out."
Who was your first big love?
"My first real love was in high school. I was thirteen then, I think. And, maybe a cliché, but I knew it right away. When I first saw her, I immediately thought, 'you are really cute!'. There were sitcom-like scenes. We have dated and kissed, but love was never confirmed by words. We have never had courtship. Back then I did not really know how to handle those feelings."
"Sometimes I still think of her: what if I had been more assertive? But that's nonsense of course. She now lives together, I believe."