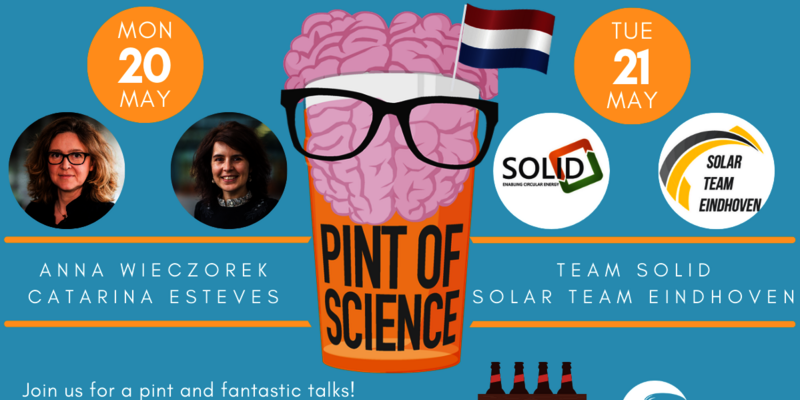 Science with a beer in your hand
What better way to promote science than in an informal atmosphere, with a beer in your hand? That is the idea behind Pint of Science. The first Eindhoven edition, which will be organized by a team of students and scientists from TU/e, will take place on May 20 and 21.
"We want to show that scientists no longer conduct their research in an ivory tower. The audience will be presented with innovations that were developed in Eindhoven and will be allowed to ask questions and enter into discussions with researchers. Pint of Science is accessible, informal, and brings research closer so people," says Roy van der Meel, assistant professor at the Department of Biomedical Engineering.
He recently started at TU/e after working as a postgraduate for a few years in Vancouver. "The Dutch organization of Pint of Science asked me to become city coordinator for Eindhoven, because the event had not been held here before." Van der Meel was enthusiastic and tweeted that he wanted to organize a Pint of Science event in Eindhoven. He quickly received several responses and by now, a team of seven TU/e scientists and students are eager to start with the first Eindhoven edition of Pint of Science.
Pint of Science
Pint of Science will be held across 300 cities in 24 countries from 20 to 22 May. The Eindhoven edition will take place during the evenings of 20 and 21 May. Researchers Catarina Esteves and Anna Wieczorek are scheduled for Monday, May 20, and students from Team Solid and Solar Team Eindhoven will have their turn the following Tuesday.
"Anna Wieczorek will talk about the link between man and society in sustainable innovations," says Christian Sproncken, PhD student at the Institute for Complex Molecular Systems (ICMS) and member of the Eindhoven Pint of Science team. Catarina Esteves is one of the initiators of Sponsh, a TU/e spin-off that has been voted best chemical startup of 2018. Sponsh develops temperature-sensitive textiles that extract water from air at night. During the day, when temperatures are high, the material repels water. These qualities allow the smart material to produce water in remote areas without energy.
"The scientists will have to present their research in a completely different way than they usually do, because their audience is different," Sproncken says.
Student teams
One of the reasons why student teams Team Solid and Solar Team Eindhoven were asked to speak during Pint of Science is because they are active in the field of energy transition. "Energy plays an increasingly important role. Both teams develop methods for generating sustainable energy," Van der Meel says. "And besides, what could be a better team for Pint of Science than one that works with a beer brewer," he says with a nod to Team Solid's recently signed partnership with brewer Bavaria.
Pint of Science will be held in Beleef Eindhoven, located at Jan van Lieshoutstraat 24K. The events will be held in English. Both evenings will start at 19.00 and end at 21.00 hrs. There is room for fifty people each evening. Tickets cost 5 euros (one drink included) and can be ordered at https://www.pintofscience.nl/eindhoven.