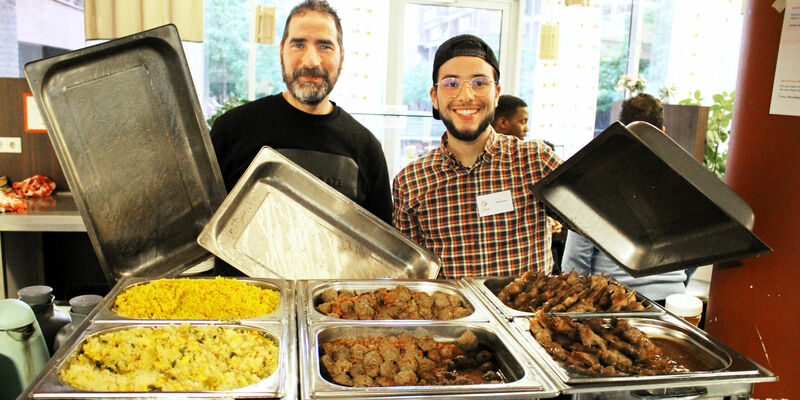 If you are studying here and your family is not around, it can be nice to break the fast together with other Muslim students. This edition is aimed at bringing students and refugees together. Deasy Hapsari, board member of S.A. Salaam, thought that was a good idea because the refugees here are often of the same age as the students and there are also many Muslims. "We wanted to try something new this iftar and get to know the refugee community in Eindhoven."
Around seventy young people arrive directly at 9:15 p.m. at De Huiskamer in Eindhoven on Thursday night, where the iftar takes place. 9:24 p.m. is the moment that the sun sets and then everyone wants to be ready. After the prayer, the fast is broken. That happens traditionally with a date and water, just like Prophet Mohammed used to do. The date quickly replenishes the sugars the body missed during the day and the water replenishes the moisture.
Read on below the photo.
What is the most frequently asked question about Ramadan? Hapsari thinks for a moment. "That must be 'You also don't drink water?'. No. No water either." But Ramadan is much more than not eating. It is one of the five pillars of Islam. This month is dedicated to reflection, fraternization and bringing your relationship with God to a deeper level.
Whether fasting is difficult to combine with studying? Hapsari doesn't think it's too bad. "Of course, if Ramadan falls in months with long days, it is a bit trickier, but you just have to stay strong. You'll get something nice in return, or at least that's what we believe."
Read on below the photo.
Everyone is welcome to the iftars, including non-Muslims. And there are some present tonight. Built Environment students Pamela Schippers, Mark de Mare, Thomas Pelgrim and Erwin Ketelaars are sharing a table. For Schippers and De Mare it's even the second time, last year they also participated.
The food tastes great, Schippers says. Pelgrim: "Today I fasted as well, out of solidarity." Hapsari believes it is important to connect Muslims and non-Muslims this way. "If Deasy had not asked us, we would not have known," Ketelaars adds.
Refugee Samir Bentouis from Algeria is having a good time among the students. "I often go to De Huiskamer and it is always nice to meet people here. It also gives me a chance to connect with Dutch people. Tonight I helped with cooking as well; we spent seven hours preparing the food for seventy people."
At the end of this period, Eid Al-Fitr (literally "feast of breaking the fast") is celebrated, also known as 'Suikerfeest' in Dutch. This year it will be around June 5.