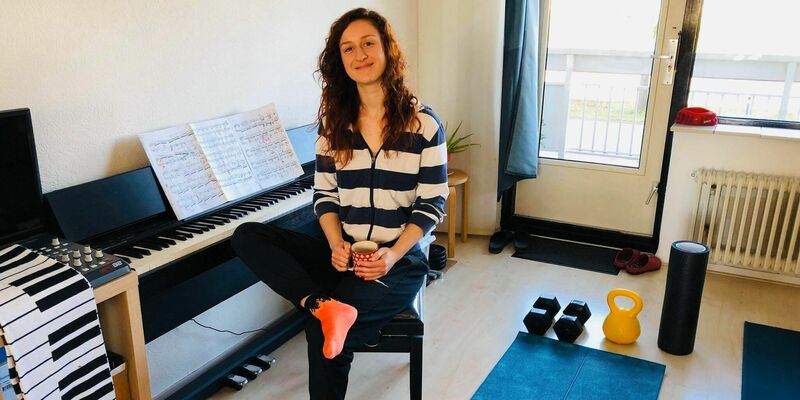 Corona

,

People

02/04/2020
"I play the piano before I go to bed, that helps me to relax"
We have probably all worked from home once at some point, voluntarily or out of necessity. But how do you divide your day and sort your work or study load now that we collectively depend on our home for a longer period of time? How do you stay focused, how do you keep your team together, what are the tips, tricks and pitfalls? Cursor calls a 'fellow sufferer' every day. Today: Rebeka Trčová, group lesson instructor and personal trainer at the Student Sports Centre.
"I sleep in a little now, until 09:00," says the sports instructor who is also a physiotherapist. "Sometimes I read an inspiring verse with my morning coffee, which I try to apply to my day. Then I often start with a workout for half an hour to an hour. That gives me more energy for the rest of the day."
With a job like hers, working from home is not always obvious. "I then sit at the computer, answer my emails and make and edit videos. For example, I made a stretch video and a HIIT (High Intensity Interval Training) video. Some I make for my own YouTube channel that I just started and others for the SSC. We are now busy arranging that, but it will take a while to upload, my videos still have to come online."
She currently has more time to do other things, for example learning how to edit a video. "I know iMovie (Apple's video editing program, ed.), which is supposed to be simple but not for me," Trčová laughs, "so I'm learning that now. Just like voice recording: how can I better record my voice in the videos? Sometimes my partner helps me with this. That's also great for him: taking a small break from his work."
"In the evening I play the piano before I go to bed, which helps me to relax. That is important to me because I feel that I'm less patient at the moment. Namely: I have enough patience with my clients, friends and other people, but the patience with myself and with my boyfriend is a bit less now. Perhaps because we are 24/7 together now; after all, he also works from home. Having to stay in the same place constantly makes me a little impatient, I guess. I can't sit still, then I feel down. So I keep working and have to use my free time differently now, for example by baking more and cooking more elaborately"
Time for self-development
She currently also spends much of her time on a personal training course. She needs to make different assignments and create a portfolio, which she works on every other day. "I have my own client for this course who I used to see three times a week. Unfortunately, this is no longer possible due to, among other things, his medical condition, which is why we now have contact online: via email, Whatsapp or video calling. I also recorded a video for him to make it more personal. I notice in the performance that it is more difficult now: it's just motivating more when you see someone in person. But my client told me that he is happy that I at least motivate him digitally. That functions as a big stick."
The course is a case of deepening her knowledge. "I already give personal training at the SSC because I also have a diploma as a physiotherapist." The course is in Dutch; an extra challenge for the half Czech, half American. "Fortunately, I have some help from a friend. Hopefully the whole situation will be over soon and I can make everyone sweat again, with personal training or in the group classes."
Moment to reflect
Trčová also has a few tips for other people working from home: "Make a - not too strict - daily schedule, a kind of general agenda. Get up and eat at about the same time every day. Rhythm and structure are always important, but now even more. It helped me a lot during this weird time. And of course: keep moving - even if it's just a small workout in the living room. As a sports instructor I just need to say that, of course," Trčová smiles.
She can philosophize well about the course and consequences of this situation: "I think the situation will get worse before it gets better. But all this is not entirely new, we must not forget that. Yes, for us it is new but in the past many disasters have happened and eventually passed."
What is different now is the availability of fast internet; everyone knows everything immediately. That also affects people and their worries, Trčová says. "And I think that now that we have more time and are confronted with ourselves, it is possible that more people will change their views and become more critical. You have been forcibly isolated and taken out of your routine. This also provides an opportunity to reflect. Why did we do things the way we did them? Normally we don't have, or don't take, the time to think about that. So that's also a tip: take a moment to reflect every day: name something you are thankful for that day. It sounds a bit cheesy but it helps me. I want to stay positive and I hope that seeing progress in nature will help people realize the impact we have. This is a direct signal from nature to us: 'Hello, now that you are no longer messing with our ecosystem, we are flourishing.' I think there are opportunities there."