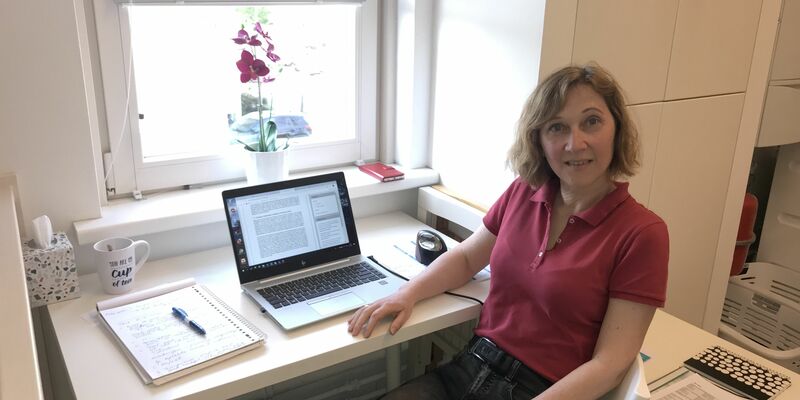 Corona

,

People

17/04/2020
"In my home office, I'm in charge"
Working from home during this time of corona crisis is slowly becoming our new normal. We are learning to work with the changing parameters and negotiating our own personal pitfalls, adjusting to the demands of homeworking, and missing the campus and each other like never before. Every day Cursor calls a fellow homeworker to hear how they are doing. Today: Lada Hensen Centnerová, teacher and operational director of the PDEng program Smart Buildings & Cities. The daily increase of temperature at her workplace in her attic is a continuous reminder of her research area thermal comfort.
Every disadvantage has its advantage, and when you have a positive disposition, like Lada Hensen Centnerová, you make a virtue of necessity. She spends her days working from home – four a week – in the attic of her house. And she doesn't have air conditioning there, unlike in her office in Vertigo. "I'm the only one in this space and I don't have to be considerate of anyone else in terms of climate," Hensen Centnerová says. "You know what to do to create a comfortable work environment. In my home office, I'm in charge."
Czech born Hensen Centnerová was wearing a warm sweater when she started to work from home in March, but by now the sits in her attic wearing short sleeves. "Houses were designed to stay warm during cold periods; how do you retain heat in the most energy efficient way? The problems are shifting as a result of global warming and the increasingly hot summers. And my attic space is one area that's being affected," she says smiling. "It's insulated, but that doesn't sufficiently keep the heat outside." And air conditioning is not an option – because far from energy efficient.
Hot weather schedule
Recently, Hensen Centnerová wrote a blog on LinkedIn about her situation working from home, which she combined with her research field. In it, she provides tips about how to keep your house cool, but she does intend to adopt a hot weather schedule should this situation last into the summer. "Then I'll simply start at 5:30 AM. A PDEng trainee already told me that he will join me."
The teacher's situation working from home is as follows: her husband – emeritus professor Jan Hensen – Skype's mostly at the dinner table, and she retreats to the attic when she needs to make a phone call. "I got a headset two weeks before the university closed down and put it in a drawer. I forgot to take it home." Her 15 and 17-year-old sons study one floor below, one is in his fourth year of senior general secondary education, the other is a first-year student at Fontys. "No exam candidates in our house, fortunately."
Hensen Centnerová supervises projects from first and final year Bachelor's students and graduates at Architecture, Building and Planning. "I don't give lectures. Two weeks ago, our students gave their presentations via Conferences in Osiris. I'm surprised by how easy that was. Everything went online quite quickly."
Travel time
Meeting online also has its advantages, she noticed. "I'm chairwoman of the editorial board of a professional journal and I travel to Woerden once a month for a meeting. I think that this will also work well online. We will do this more often in the future, that saves you travel time."
Despite her positive disposition – "being at your office has advantages and disadvantages, just like when you're at home. You need to make the best of it" – she would like to return to the university. "I miss my short talks with colleagues, you don't just skype with everyone to do some catching up. We are with seven women in our office in Vertigo. We had a kind of coffee break chat last week for the first time. It was nice to see everyone again."
She hopes the measures in the Netherlands will be loosened after the May vacation. She was supposed to spend that vacation in the Czech Republic, where her parents live. "But the borders are closed. The measures there are stricter and were implemented earlier than here, and the schools and universities in the Czech Republic will start to open next week. I hope that the Netherlands will follow soon."
In the beginning, she found it difficult being far away from her parents and sister and not being able to travel to the Czech Republic if when one of them got sick. "But I realize now that this is true for people within the Netherlands as well. So, we skype with them, but also with my sister-in-law in Oisterwijk and brothers-in-law in Tilburg. The distance doesn't matter anymore. That's a positive thing in these difficult times."