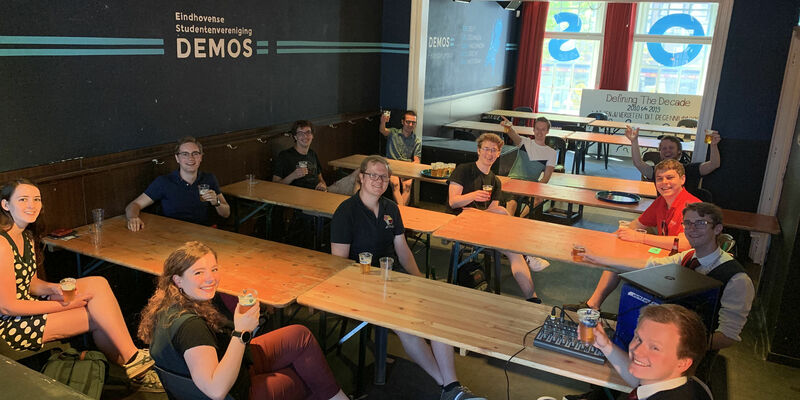 Corona

,

Student

03/06/2020
Hidde Fokkelman, president of the Eindhovens Studenten Corps, is thrilled that the E.S.C is allowed to welcome its members again. "We closed our doors on the 10th of March already, after we saw the RIVM's first reports. Three days later, the Executive Board urgently advised us to stay closed, and I'm glad to say that we're carefully going to resume our activities now that the measures are starting to be eased."
These last few weeks, the city's three student social associations have been in close contact with each other, the municipality, and the university. Each association was asked to submit a protocol, and they were subsequently given the green light to open their doors again as of June 1.
"The most important thing is that social distancing is guaranteed," Fokkelman says. "We miscalculated the number of people we could accommodate with one and a half meter. We took a measuring tape and discovered that we have room for thirty people on the ground floor. Everyone has to go to their seats via fixed routes." The front door of the building in the Ten Hagestraat opens on a narrow corridor that serves both as an entrance and an exit. "That's a challenge, but it will work because our commissioner and the board members who happen to be present will ensure that people keep their distance in the corridor."
Because everyone needs to be seated, the E.S.C wants to use twelve tables. Some of these tables were cobbled together with great haste, and with much pleasure. As of now, the ESC will be open not for two, but for six evenings, from nine in the evening till midnight. The longest-standing E.S.C societies (of which there are twelve in total, and one that is currently being set up) got to choose an evening first. Unattached members are welcome during the day, provided that they can secure a spot on the reservation spreadsheet.
Going to a terrace
SSRE members can go to Eunaia again, "almost like old times." The name of the society on Vestdijk means 'safe home port,' a role SSRE is glad to take on again. "Our plans have been approved, which means we can finally offer our members some diversion and relaxation again," says SSRE president Gideon Franken. The building is large enough for people to keep distance without any problems, and it has two accesses. "You enter through the front door, and you can leave via the courtyard that leads to an industrial site behind the Heuvelgalerie."
"Our terrace is open during the day from 15:00 hrs. and people don't need to make a reservation. There are thirty chairs and when all chairs are taken, you won't be admitted. Members can simply stop by, and after they answer some questions about their health and wash their hands with disinfectant gel, which we've placed at the entrance, they can sit down," Franken says.
The terrace closes at 19:00 hrs., which leaves half an hour before the evening guests arrive for drinks in the two areas designated for that purpose. The ten societies make a reservation for an evening and for a space, and submit a guest list three days in advance. The society will also open its doors on Sunday evenings as of now so that it can receive the unattached members as well.
Convenient bar system
The 250 members of Demos won't be able to have a drink outside at De Keizer yet. The society at the Keizersgracht will welcome its members inside for the time being. "When that goes well, we will see whether we can turn the terrain - a part of which we rent out as a parking lot - into a terrace," says president Niki Lupgens. "We submitted a substantial plan to TU/e and the municipality in which we show how we comply with the corona measures. That plan has been approved," she says.
"As luck would have it, we started to use our online bar system, which allows members to pay completely contactless, on Monday. That went well." De Keizer will also be open for six evenings a week and the branches (society, year society or year club) will receive an invitation by mail to make a reservation for a space a week and a half in advance. Each evening has two timeslots. "If there are spaces left, other members can register via Demos' webpage."
Lupgens is glad that the measures have been eased, and she is confident that things will go well. "Working from home will remain standard practice for our board and committees for the time being, but at least our members can meet each other again within their own branches."