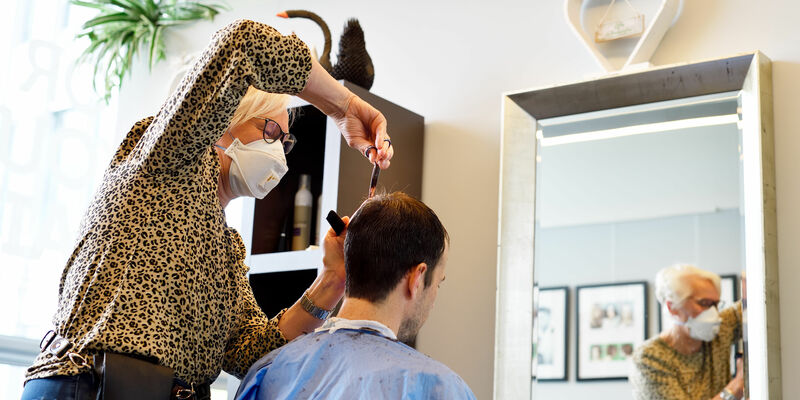 Corona

,

People

,

The University

13/05/2020
"Yes, I can reopen for business!"
Working from home during this time of corona crisis is slowly becoming our new normal. We are learning to work with the changing parameters and negotiating our own personal pitfalls, adjusting to the demands of homeworking, and missing the campus and each other like never before. Cursor regularly calls in on fellow homeworkers to hear how they are doing. Today, TU/e hairdresser Marjan Reijbroeck. After a seven-week closure, she was allowed to reopen her salon in Luna on Monday.
Whereas the majority of TU/e employees, armed with a laptop, have been able to work from home these past weeks, the situation has been somewhat different for Marjan Reijbroeck. The TU/e hairdresser - this year on campus with her salon for nineteen years - was sentenced to a stint at home doing nothing after Prime Minister Mark Rutte announced at the end of March that all hairdressers had to close their doors.
"Suddenly having to shut down like that, it was strange and unreal," says Marjan looking back. "It took a while for it to sink in. I let my customers know the situation and locked up, without knowing for how long that would be. You have very mixed feelings, you know, because it isn't your own decision to stop."
With a laugh, she says that her home is now very clean, in answer to the question of what she has been doing these past weeks. Because she was not allowed to practice her profession. "Together with my sister, I've been sewing face masks for a good cause. And I got my inline skates out again."
Corona-proof
Last week the news came that she had been waiting for: hairdressing salons were allowed to start up again. "'Yes, I can reopen for business!' That was my immediate thought." She continues, "Building manager Johan Lauwers has been a great help to me, helping me get everything organized quickly."
Marjan has ensured that everything is corona-proof: she has professional face masks, given to her by her nephew who has a car paint shop; she has bought a handheld ATM ("but I still accept payment in cash"); on the table stand disinfecting hand gel and hand cream for customers to use; after every customer she disinfects the workplace and her equipment, and only one customer may enter the salon at a time. And customers need to make an appointment by telephone.
"When people knew that I was allowed to reopen, my telephone rang nonstop, I'm glad to say. Fortunately, over nearly twenty years I've built up a good number of regular customers here at the university."
Things are a little awkward at the moment, with the rest of the campus being closed. To reach the salon it's a matter of entering Luna by the main entrance, ducking under the tape barrier ("I've got permission for that") and then taking the stairs to the first floor.
Careful
Then the telephone rings. "TU/e hair salon, Marjan speaking." A conversation unfolds about the protocol the hairdresser must follow. "I have to ask you whether you have any symptoms. And if someone is in with me, please wait in the hall. We have to be very careful of each other." The appointment is made and she says, "This customer said he was very pleased to be able to come here. The walls were closing in on him at home."
For her part, Marjan is happy with her customers and to be able to start working again. "Yesterday I had two customers who spontaneously offered to pay double for their treatments, to support me. 'This would have been my second appointment,' they said. I didn't feel it was necessary, but it was so kind!"
Now it is a question of waiting until students too are welcome back on the campus. "I do miss it, the hustle and bustle and people dropping by on the spur of the moment." But every cloud has a silver lining: "I still have some spaces in my diary, so don't hesitate to call and make an appointment."