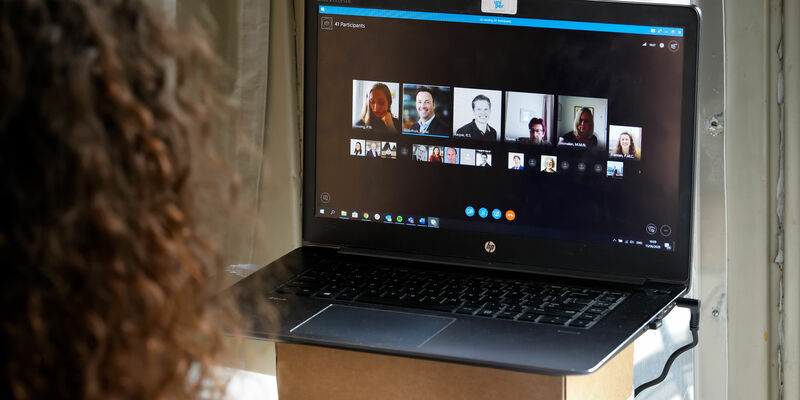 The University

09/11/2020
'Codetermination more intense in times of crisis'
The corona crisis makes significant demands on codetermination bodies, says minister Ingrid van Engelshoven, but proper consultation is more important than ever. She said this during the Day of Employee and Student Codetermination, which took place last Thursday.
Van Engelshoven talked to students about the fourth national codetermination monitor, an initiative of the ISO (Dutch National Student Association, or 'Interstedelijk Studentenoverleg'). Interestingly enough, this edition of the monitor makes no mention of corona once. The questionnaire was filled in at the start of 2020 by 967 members of codetermination boards at research and applied sciences universities. A global crisis hadn't broken out at that point.
Relevant
Nevertheless, the results from the monitor are relevant, Van Engelshoven believes. She suspects that for many members, the time they spent serving on codetermination bodies this year has been "more intense" than ever before.
Because there was much to discuss: the switch to online education, online proctoring, making facemasks mandatory… Unfortunately, it wasn't always possible at the start of the crisis to involve codetermination bodies in time, the minister acknowledges. "Some decisions needed to be made really fast."
Rather sharp
This has improved at many universities, students noticed. Still, all those online meetings make things more complicated sometimes, they say. The minister recognizes this. She can imagine that informal lobbying with administrators in particular is a bit easier when it takes place offline.
"Sometimes, you need to be rather sharp during a meeting, but you do want to keep the relationship intact," she said. "Normally, you come up to someone afterwards and say: listen, I might have been rather sharp just now, but no offence." It has now become much more difficult to phone people after a meeting to tell them this, according to the minister.
On track
Participation is on track, according to the ISO, but there's also still much work to be done. Between 2015 and 2018, students and employees on participation boards were increasingly satisfied with the availability of facilities: think of note-takers, official support or an autonomous budget.
But that increase has stagnated, according to the most recent monitor. Satisfaction with the influence of codetermination bodies, their own functioning, and the relationship with administrators hasn't increased either.
Members of codetermination bodies were greatly involved these last two years with drawing up the so-called 'quality agreements,' in which the allocation of the millions of euros generated by the loan system were laid out. Still, they would have preferred to be involved in the drafting of the budget a bit earlier in the process.
One hour extra
Serving on codetermination bodies has become increasingly time-consuming these last few years. However, in early 2020, before the corona crisis, the average time spent had in fact dropped slightly to 7.8 hours a week, compared to 8.7 hours a week in 2018.
There are major differences between members though. Student members on central bodies at universities in particular are responsible for a serious increase in the average time spent on codetermination bodies: they say it costs them no less than 26.3 hours a week.
And that isn't even enough sometimes: on average, respondents say they need one extra hour a week. They feel that they often don't have enough time for contact with the people they represent, for example. As a politician, the minister recognizes that problem, she said.
More training
Members of codetermination bodies would also like to have more training, for example in the areas of finances and legal matters. In addition, they often don't feel properly informed by administrators.
This edition of the codetermination monitor included a separate questionnaire for the first time, which was filled in by 1,079 education committee members. They spend an average of 2 hours a week serving on their committees, but say they need 2.4 hours. There is also a need for more autonomous budget and, particularly at applied sciences universities, more official and legal support.