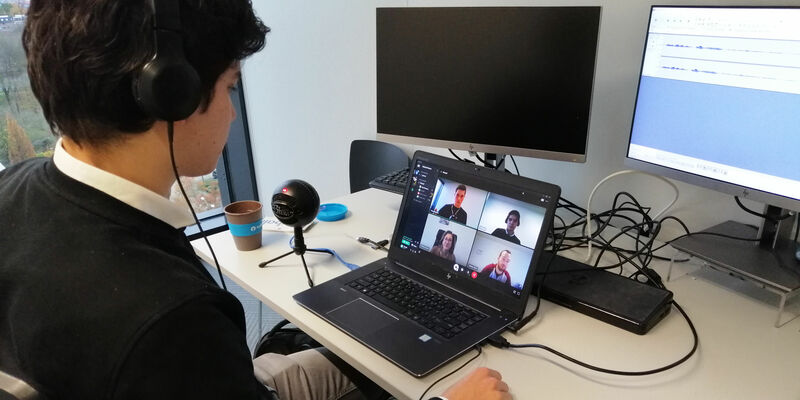 Industria launches new podcast with astronaut
Who could be a more fitting guest to launch your new podcast series than an astronaut? So ran the thinking at Industria. This coming Friday the study association at Industrial Engineering is kicking off its online initiative with an interview with alumna Mindy Howard.
Of course their students miss drinking a coffee together at lunchtime, their spontaneous chats in the corridors, physically being in the same space. Even though there has been plenty of discussion on MS Teams - and still is - as Industria president Koen Hermans knows, the focus is often very much on content. "There is some chat but not a lot." This change in social life is a point of concern and attention for all the study associations, Hermans knows. "When it comes to the welfare of our students we feel a certain responsibility, no question about it."
Having said this, the corona crisis and the enforced focus on online interaction are not without their modest benefits, Hermans says. Not only is the association busy setting up its own podcast, for example, but work is also underway on a new website and Industria is building an app of its own.
In addition to all this, recent months have seen no shortage of activities, the president reports. Take the weekly lunchtime lectures on a Tuesday, for example. These now take place online and, due to their accessibility, are drawing even more visitors than they used to in their traditional physical form. "People are now more inclined to have it on in the background, while they are eating, for instance," says Hermans.
Dressed up for the webcam
Even the eleventh of the eleventh, an annual milestone for the Carnival-loving regions of the Netherlands, was celebrated 'as per usual' - by sharing a beer on MS Teams, complete with Carnival attire for the webcam and with a fitting musical playlist on the side. "As the association that normally holds the biggest student party during Carnival (Pullûhrijk, ed.), we couldn't possibly not do something."
A new addition to Industria's 'web store' is its new podcast, which launches this Friday and will certainly be available on Spotify. A new episode of just under 30 minutes will air once a week, "making it a bite-sized thing that people can play in the train, say, on their way to spend a weekend with their parents."
Each episode of the (English-spoken) podcast features a different guest; some will be alumni of Industrial Engineering, Hermans expects, or at any rate guests "with cool stories from the discipline." And these stories, so the thinking goes, need to be interesting not only to (prospective) industrial engineers or alumni, but also to a broad audience. "We want to give the big picture, and cast our net wide in terms of the content. After all, isn't the main thing about any good podcast that it holds your attention on a subject that at first glance you wouldn't be inclined to think about?"
Industria is kicking off on Friday with alumna Mindy Howard, expected to become the first Dutch woman in space in a couple of years' time. "We thought that fitting, having an astronaut launch our podcast," Hermans says, laughing. Another guest soon to make an appearance is alumnus Harry Wolters, who will talk about his long and varied career at DAF. "We want to have the guest telling their own story, and it'll be our job to keep it light and entertaining. These won't be monotonous monologues."
Hermans would be only too happy for the podcast to stay the course, and continue on after the corona crisis. In any event, a podcast committee has been set up at the association and will take on the task of sustaining the project's momentum.
Cake at home
The podcast's launch falls in the middle of the week in which Industria commemorates its founding; this year the association turns fifty-seven. The week will be opened on Thursday with a birthday cake delivery at home for those members who have signed up in advance; other planned activities include an online games evening, a casino evening and a case competition.
Ideas about what the near future has in store for the study association during this corona period? "We are hoping for the best and assuming the worst," says Hermans, summarizing his board's motto. "We are hoping, of course, that come the spring we'll be able to make all kinds of trips and can visit companies again, but for the time being it's a question of making the best of it. So, for example, we are preparing events for the rest of the academic year with the 1m50 rule in mind. That's the basis we are working on. If the situation permits, we can just as easily drop the distance restrictions."
Incidentally, Industria is by no means the first and only Eindhoven study association with its own podcast. Others already making themselves heard in this way include Lucid (Department of Industrial Design). You can find their podcasts here.