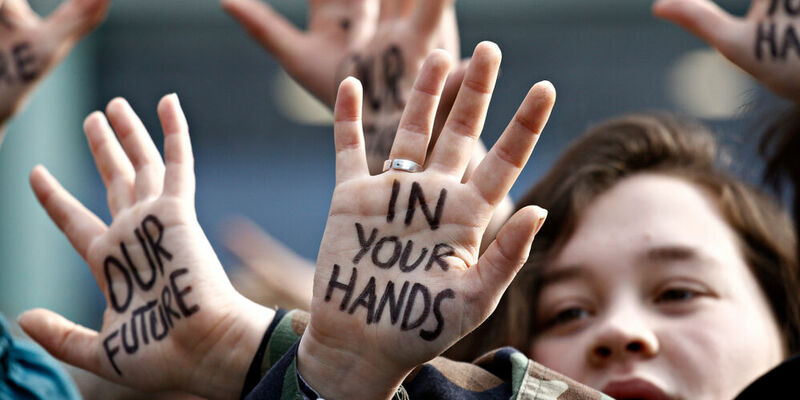 The University

,

Student

16/11/2020
University Rebellion urges board to take swift climate action
Action group University Rebellion Eindhoven, which currently consists of a few dozens of students, urges TU/e to devote much more attention in its education, research and policy to the disastrous effects of climate change and the way in which the university contributes to this. The group will present Executive Board president Robert-Jan Smits with a manifesto of demands on Thursday, November 19. If that doesn't lead to a change in course any time soon, the group will start a campaign. "And we will certainly do so within a month after the presentation," Master's student and action group member Bram Boer says.
University Rebellion Eindhoven is currently being formed, according to Bram Boer, Master's student Sustainable Energy Technology (SET), and fellow group member Elsa van Dam, third-year Bachelor's student at Industrial Design. "But the group size isn't what matters now," Boer says, "what's much more important is our message, which we will present to our Executive Board this week. That message is clear: our university hardly pays any attention to the current disastrous impact of global climate change on our planet, and to the effects that will follow if we don't take immediate action. The Executive Board needs to hurry and make this a part of its policy, because that is what we demand in this manifesto."
University Rebellion Eindhoven is a spin-off of national action group Extinction Rebellion Netherlands, which organizes nationwide campaigns on a regular basis and is itself a branch of global environmental movement Extinction Rebellion. Similar spin-offs have already been set up at several other Dutch universities, it says on the site of University Rebellion. That same website states that Thursday's manifesto will also expose how the universities play a role in our 'broken down system.' In addition, the manifesto will offer 'a theoretical framework to force universities to take the necessary measures.'
Impact
Several university boards throughout the country will be presented with manifestos on Thursday, Boer and Van Dam say. They don't want to go into the exact nature of the necessary measures outlined in the eleven-page document at this point. "It will be the starting point for our campaign at TU/e," Boer says. "Our manifesto's impact is something we want to save for that moment."
ID Bachelor's student Van Dam, who was recently interviewed about the manifesto by UNID - the online magazine of study association Lucid - would like to add that the manifesto will include an account of the circumstances that have led to climate pollution, and its current consequences. Van Dam: "When I talk about this to fellow students and teachers, I realize that most of them have no idea just how urgent the situation is, and that it's important that we act now." Boer refers to this as a form of cognitive dissonance: "We address a complex problem. People feel that things need to change quickly, but that's a threatening thought they rather not allow. That really stands in the way of serious changes at the moment."
Entrance of MetaForum
The presentation of the manifesto will take place in front of the entrance of MetaForum on Thursday 19 November at 13:00 hrs. Boer and Van Dam say that "a theatrical action" is scheduled to take place for this occasion. President of the Executive Board Robert-Jan Smits will accept the manifesto on behalf of the board. The Executive Board doesn't want to make any statements on the forthcoming presentation at this point, because it wants to read the document first before commenting on its content, according to board spokesman Ivo Jongsma.
Boer says that he expects the board to respond quickly, and to take action. "If not, we won't hesitate to start our campaign. We can do so in less than a month. Because time is running out."