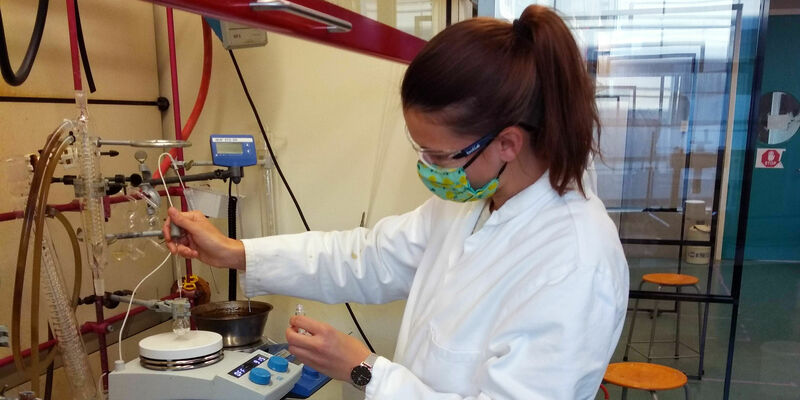 Corona

,

People

23/11/2020
The homeworker revisited: doctoral candidate Brigitte
Work from home if you can; this was Prime Minister Rutte's urgent appeal, made first to the people of North Brabant on the evening of Monday March 9th. Would it last two weeks? Four? Longer? More than eight months of corona news, discussion, measures, changes and adjusted expectations later, we know how things turned out - as do the members of the TU/e community who participated in our series on homeworkers this past spring. How are they doing now? Every day this week we are catching up with one of them and looking back at what was said at the time.
"It is actually quite nice to take some time off" (April 2020)
This is the headline we ran on April 3rd above the interview with Brigitte Lamers, doctoral candidate at the Department of Chemical Engineering and Chemistry. Seven months later she laughs about it, albeit it wryly, "Isn't this period of peace and quiet going on just a little too long now?"
She has since moved house, Lamers tells us over the phone - to a new place that may not be much bigger than her previous studio apartment, but where she does have the luxury of a second, larger computer screen, a separate keyboard and a decent office chair. "Rather more responsible." Her greatly relieved back attests to this.
"I'm bad at doing sports alone, so I don't know how long I can keep that up" (April 2020)
Very much a team player by nature, Lamers had turned to her mountain bike in lockdown, making a valiant effort to take exercise and stay fit in order to compensate for her soccer team's cancelled training sessions and matches. It wasn't until after the summer, in September, that the soccer women were back together on the pitch - but the second corona wave soon sent them packing from the sports park.
Read on below the photo.
Social contact is still what she misses most, Lamers explains. She cherishes the small bubble that she and a handful of girlfriends share, but misses the casual ease of her social life as it used to be; the spontaneous encounters and trips.
Weighing up against this is the greater value she now places on the limited social life she now has. "You have more time for each other; that certainly counts as a positive." Similarly, she feels she has grown closer to her colleagues, who since early May she has been encountering in the lab, with the appropriate distancing. "They are now the people I see most."
"I really don't know what to do at home for three weeks" (April 2020)
So naturally she was overjoyed when in early May, two months after the closure, the TU/e labs reopened. Yes, at home she had been able to make good headway on her thesis, "but it was lovely to be able to jump on my bike and go to work again. At a certain point you start climbing the walls at home."
The research group headed up by Bert Meijer, to which this doctoral candidate belongs, was divided into two groups, each of which had access to their labs for two-and-a-half days a week. And it is here that Lamers has spent the past few months working on the last project for her doctoral research, for which she has been synthesizing and analyzing molecules. "That was a little tricky because for some of that work I needed to be in a lab in another building - and, of course, the college authorities would rather you didn't walk back and forth between buildings all that much. Fortunately, the measures were relaxed a little in the run-up to the summer."
"I miss the activity of others around me" (April 2020)
In any event, they soon become second nature, Lamers feels, all the measures on the campus: the distance, the pedestrian routes, the washing of door handles and, in fact, "everything that is touched frequently" with a mild detergent solution just before the change of shift. "It was made easier by the fact that everything was prepared and explained extremely well." Only planning her experiments to run to time provided a bit of a challenge. "Experiments don't always go as you'd like them to, but on Wednesday afternoon at one p.m. you absolutely have to be ready to make way for the next group."
On April 9th, 2021 Lamers will defend her thesis, which she must submit three months in advance. When we speak to this researcher, she needs one more week to complete her last experiments, and she is feeling mildly anxious about the next press conference, worried that stricter measures are to come and labs may again be closed (which had not happened as we went to press, ed.). Much of the work of writing in which doctoral candidates immerse themselves - sometimes with great reluctance - in the months leading up to completion is now behind her. She was able to get a great deal done at home this past spring, "which is a comfort."
"Now two months of our social life are just cut out of the year" (April 2020)
At any rate, she is doing better now than she was back in March, says Lamers; even a pandemic, it seems, you can get used to. "But I do find it scary to think that it might yet be a very long time before this is over." 'Two months of social abstinence', her take on the likely impending situation - see her words at the time printed in bold above - we leave aside this time around.
By her own account, she has become wary, therefore, of looking ahead too clearly - and her PhD ceremony in April 2021 is no exception. "From the moment you start your PhD period you can't help but look forward to the day when you can celebrate your graduation with everyone you hold dear. The thought of perhaps not having a party or perhaps not even being able to celebrate my graduation with a dinner, that really dismays me, no question about it. But it's what I'm preparing myself for."