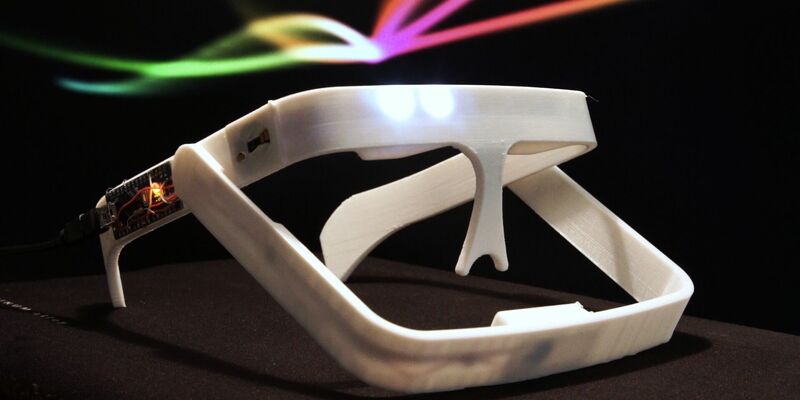 Corona

,

Research

,

Student

28/09/2020
Headset helps corona nurses
Back in April a team of Hungarian students won the EUvsVirus hackathon with the prototype of a headset for measuring the vital functions of corona patients remotely. Now, with the help of EIT Digital, they have secured half a million euros to build a working device. As part of the EIT Digital Master School, two of the students are following a dual-degree master's program at TU/e.
Peter Lakatos is currently trying to complete his Master's of Data Science from Hungary. He is also the ringleader of the group of childhood friends from Budapest who, working under the name Team Discover, succeeded in the space of thirty hours in conjuring the winning concept from the 3D printer. Propelled by corona, in April he returned to his home country from Stockholm - where he was taking the second year of his dual degree, having spent his first year in Eindhoven.
Likewise, the other team members - with one exception - are studying for a master's degree through the European Institute of Innovation and Technology (EIT). Levente Mitnyik, responsible for the electronic hardware, is currently studying Embedded Systems at TU/e and divides his time between his studies and the project, which has developed into a fully fledged startup, under the name Entremo.
Infection
The thinking behind Entremo's headset is that it enables nurses to monitor a large group of patients from a distance, Lakatos explains from Budapest. "The patients place the device momentarily on their head once an hour, so that the built-in sensors can wirelessly transmit their temperature, heart rate, respiratory rate and the level of oxygen in their blood. This saves nurses from having to repeatedly come close to their patients." This not only saves a great deal of time, but also reduces the chance of infection.
While the crude version of the hardware was ready in the blink of an eye, the development of the necessary software proved to be a task involving more work, Lakatos tells Cursor. "The sensors were pretty standard, but the wireless communication was rather more difficult. We got help with this, from among others the startup InnoTractor based in Tilburg." By the way, the design of the headset is also getting a makeover, Lakatos says, while preferring not to reveal any details. "The current process runs until December; at that point we must have a working prototype that we can test in various healthcare situations, and also in various countries."
Active man
Lakatos is an active man: back during his time in Eindhoven he won the TU/e Contest with the SpaceSea project, and with another TU/e team he won a hackathon in Belgium with an app designed to connect people at all kind of events. "That was as part of a course on entrepreneurship and it resulted in the Spotyet app. Regrettable, owing to Covid-19 the market for this app has been obliterated for the time being." Not that the Hungarian and his friends saw this as any reason for discouragement: "We went ahead and produced a purely online version for Slack."