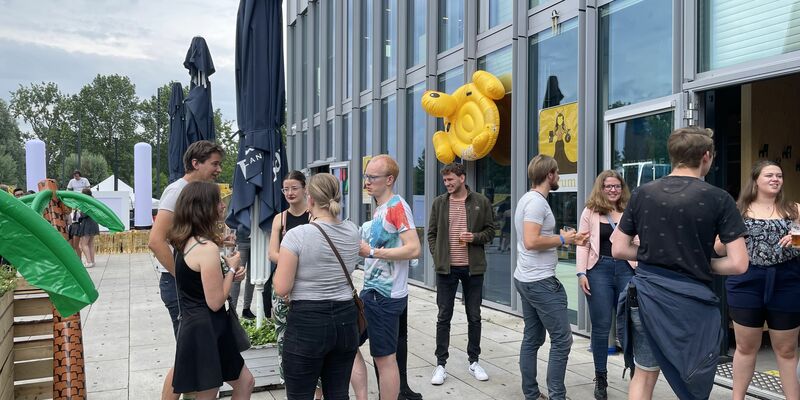 Campus

,

People

,

Student

05/07/2021
First big post-lockdown party on TU/e campus is a fact
The first big post-lockdown party on the TU/e campus took place in Hubble Community Café. Last Saturday, 250 students gathered there to celebrate B&R Eindhoven's first lustrum party. The student investment society did however ask all guests to take an entry test first.
"The idea to organize a lustrum party came up some two months ago," Roelof van Delft says. He is a member of the lustrum committee and recently obtained his master's degree in Business Information Studies at TU/e. "We didn't want to let our first lustrum pass unnoticed, and so we decided to start planning a party despite the corona measures." B&R Eindhoven celebrates its fifth anniversary this year and currently has 120 student members.
"The past year was extremely difficult. We could hardly organize any physical events, and that makes it hard for our society to keep everyone together," B&R chair Tim van Lijssel says. Van Lijssen recently obtained his bachelor's degree in Electrical Engineering and is very proud of his society, despite last year's setbacks. "The fact that we can organize this party here is great. It's really nice to see all those happy faces again."
The visitors are having a great time, that's for sure, but not everything has gone back to normal. It all feels a bit uneasy to Stijn van Himste. "It's nice though that everyone has been tested of vaccinated. That's a good feeling," the TU/e student of Electrical Engineering says.
All partygoers had to undergo a pre-admission test first. Before they were allowed entry to the party venue, students had to present their negative test result via the coronacheck app.