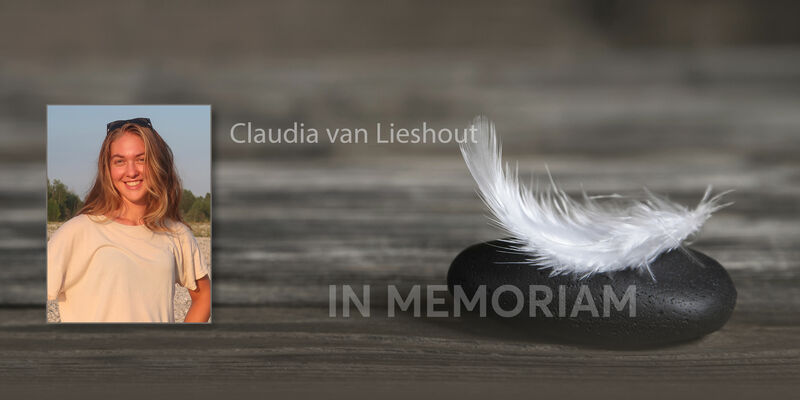 Claudia was a bachelor student in our Joint Bachelor Data Science program with a keen interest in Applied Mathematics. She was known across the TU/e and Tilburg University communities as kind, curious and determined. Her training as an athlete was evident in our interactions with her: continuously striving to reach her individual and the team's goals, reflecting on what she could do differently next time, and willing to put in the work to see the results she desired.
She started her studies in 2017, in the second year of existence of the Joint Bachelor Data Science program. Her professors shared that she would be missed for her open and friendly nature, as she brought much joy into the classroom. She was an active student who strived to perform well and whose presence and engagement was very much appreciated. Her peers remember her as a caring, energetic, and motivated student.
To those who knew her best, Claudia was a resilient young woman with an adventurous and kind heart. She spent most days outside of her study with her rowing club, E.S.R. THÊTA, where she was a valued friend and athlete since 2017. Her friends knew her as supportive, always there for a laugh, and to tell you that things would be okay. A dreamer, and an adventurer. Claudia and her warm, positive nature will be dearly missed.
We wish strength to all who knew Claudia to give this loss a place. Our thoughts are with Claudia's family and friends at this most sad and difficult time. Today on Monday 8th March, the day of her funeral, TU/e flies their flag at half-mast in her honour.
You can leave a personal message in the online condolence register. The family indicated they would much appreciate any last message you want to send.
Please remember, help and support is available for students and staff, now and in the future. Staff of both TU/e and TiU can contact company welfare worker Agnes Kloppenberg. Students can contact their academic advisor or the student psychologists in Eindhoven or Tilburg.
You do not need to process your grief alone. We encourage you to share your feelings and emotions, with your fellow students, friends or with our academic advisors or psychologists.
Last week Thursday, we had several gatherings to commemorate Claudia, and to be together in the wake of her passing. Her friends, peers, and professors remember her with much warmth and fondness. She lives on in all those who love her.
She was a bright ray of sunshine that sadly left us much too soon. May she rest in peace and love.
For Eindhoven University
Prof.dr. Johan Lukkien, Dean Mathematics and Computer Science
Prof.dr. George Fletcher, Program Director Bachelor Data Science
For Tilburg University
Prof.dr. Geert Vervaeke, Dean Tilburg Law School
Dr. Anne Lafarre, Program Director Bachelor Data Science