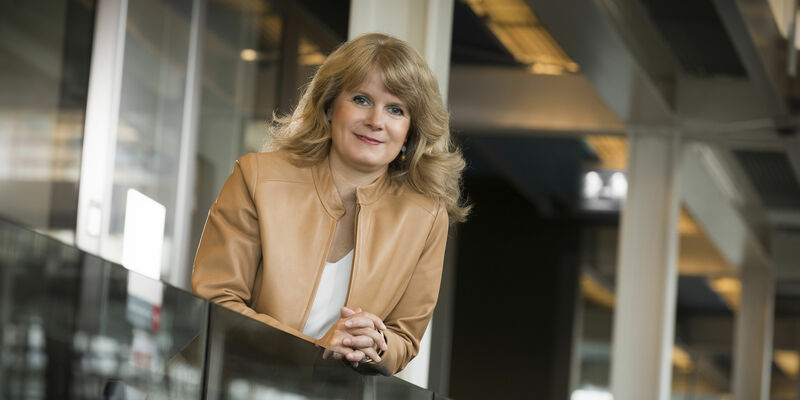 People

,

Research

09/03/2021
Patricia Dankers embarks on the path of plants
The attribution of the Ammodo Science Award, worth 300,000 euros, allows professor of Biomedical Materials and Chemistry Patricia Dankers to explore new paths. From artificial tissues and organs for the happy few, to healthy food for the masses. It's something she had been dreaming of for some time: "We can apply our research for more sustainable goals."
Patricia Dankers is one of the eight laureates of the 2021 Ammodo Science Award for fundamental research. The sum of 300,000 euros allows her to explore new paths in fundamental research in the coming years. "I can now go ahead with something I've been wanting to do out of personal interest for years," Dankers says with delight. "We synthesize materials, so-called synthetic extracellular matrices, for the growth of animal and human cells. I want to develop that for plant cells now."
The prize money provides Dankers with fertile ground for her research. Since TU/e researchers don't have a reputation in growing plant cells, she hasn't applied for a grant anywhere so far for this kind of research. "My dream is to carry out fundamental research in how we can use biomedical technology and materials for plant cell growth, and to study whether a symbiosis between animal and plant cells is possible."
Surprised
Dankers truly didn't expect to receive the Ammodo Science Award. She was nominated by rector Frank Baaijens, who knows her work well. Her Biomedical Materials and Chemistry groupresearches and designs synthetic biomaterials that can control, mimic or even exceed complex biological processes in the human body. The use of smart chemistry makes it possible to repair ageing or damaged human or animal tissue. 'The materials designed by Dankers and her team are becoming increasingly more complex, interactive and smart. In part thanks to her fundamental research, there are now heart valves and blood vessels made of synthetic biodegradable biomaterials, as well as synthetic hydrogels for stem cell culture,' according to the jury report.
KNAW
"I received a phone call from the Ammodo chair just before Christmas. I'm familiar with the prize, I was a member of The Young Academy of the KNAW (co-responsible for the attribution of the award, ed.) until last year. It's an award that covers different scientific disciplines, won by scientists whom I greatly admire. It's nice to feature on that list as well now." Dankers has received several research grants, including Veni and Vidi grants from NWO, and ERC starting and proof-of-concept grants. In 2020, she was awarded the KNCV Gold Medal. The Ammodo Science Award for fundamental research serves as recognition of scientific achievements by outstanding, internationally acclaimed mid-career researchers working in the Netherlands who received their PhDs no longer than fifteen years ago.
Plant cells
One of the PhD candidates on Dankers's team recently started to grow plant cells as part of her doctoral research. The prize will allow the professor to recruit a second PhD candidate, which could lead to a new research direction.
"I've been wondering for some time now whether the path we've taken, with an enormous focus on prolonging human life, is the right one. Of course, I fully support saving human lives, but at the same time there are too many people on the planet, and our way of life is no longer sustainable. The research we carry out and the solutions we come up with aren't always available to everyone. Wouldn't it be better to focus more on sustainability?"
Lab work
Dankers can now embark on a different path. "We want to make materials that enable us to control and accelerate the speed at which plant stem cells divide and regenerate. It stays in the lab; we will not cultivate fields. But hopefully, others will eventually be able to use these materials to also improve and accelerate the genetic modification of plant cells, in order to produce in a less climate- or surface dependent manner, for example, or to grow more high-protein grain so that the livestock population can be reduced."
Symbiosis
Dankers wants to create a symbiosis between plant cell and animal cell, in order to arrive at an engineered living material. "In which a plant cell characteristic for energy storage is linked to an animal cell characteristic for movement, to give an example, and that we can also control that with synthetic materials."
But first, Dankers hopes to artificially recreate the cell wall and to use that technology to significantly accelerate plant breeding, which currently takes months. "Agriculture technology hasn't changed much over the past hundred years, roughly put, and it could use some input from the much younger research field of biomedical technology," Dankers says. "Now, I'll try to convince a researcher at Wageningen University Research to explore the biomedical side of plan cell growth."