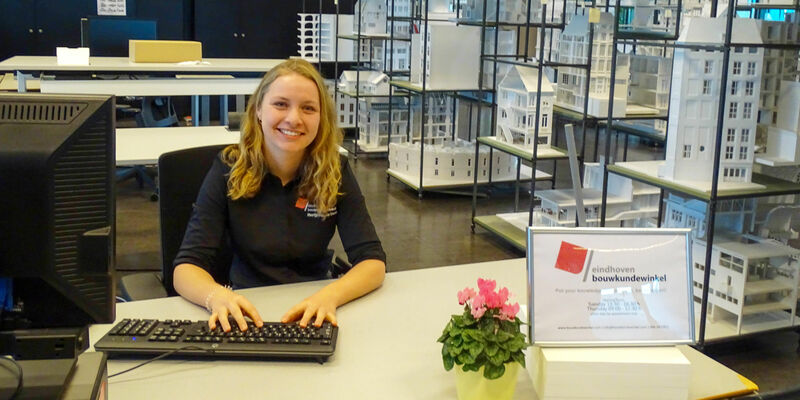 Education

,

Student

08/11/2021
Bouwkundewinkel provides you with experience
Coming up with a solution so that the exit of a new bicycle storage facility doesn't lead to a terrace, finding ways to reduce the nuisance caused by high-voltage cables to a minimum for local residents, or creating a design for tiny houses at a housing complex. Just a few examples of assignments Built Environment students who take an elective course at the Bouwkundewinkel might come across. It's the perfect way for students to start learning how to make and maintain contact with clients as early as during the bachelor's phase.
The Bouwkundewinkel helps groups and individuals with problems or questions pertaining to matters of construction and infrastructure, but who lack the financial means to call in the help of a professional consultancy agency or architectural firm. It consists of a team of four Built Environment students under the supervision of dr. ir. Faas Moonen.
Student Merijn van der Does is chair of the Bouwkundewinkel and she explains to Cursor why the last of the four original science shops still exists. In 2011, the Chemiewinkel and the Elektrowinkel were closed down, followed by the Fysicawinkel three years later. "We've made changes to the way our shop is organized, and it's also true of course that people are more likely to experience problems with construction and urban planning than with chemistry or physics," the MSc student Architecture, Urbanism and Building Sciences says. "The team doesn't necessarily solve the problems by carrying out the assignments itself, but we offer interesting construction applications in an appropriate way as part of a teaching case, and then look for a suitable supervisor within the department."
Scientifically unsound or unsuitable applications are modified by the team of shop owners if possible. The team does so, for example, by shortening or expanding the assignment, or by opting for a different approach. A project for the Bouwkundewinkel during a quartile corresponds to an elective course. Students gain 5 credits, but Van der Does believes that a Bouwkundewinkel project is "more realistic and instructive, as well as more complicated" than a regular course.
Non profit
The Bouwkundewinkel rejects applications from commercial institutions, such as applications submitted by project developers looking for a design to fill their purchased land with tiny houses.
Tiny houses for a former monastic complex near the town of Vught do however constitute an interesting assignment. It was submitted by the department's academic advisor Hanneke Smeetskamp, who lives in a residential community on the grounds of the former monastery. "This assignment might be added to the series before the end of the year," shop owner Van der Does says.
During Q2, two students will also be looking for a solution to an urban planning problem with which a café owner in the Eindhoven station area is confronted. Van der Does has seen it before: "The municipality pays more attention to what's new than to what's already there." An underground bicycle parking facility has been planned as part of the development of this so-called District E. Its exit, however, leads to the terrace of the café owner, who isn't happy about that. Can the TU/e students come up with a better solution?
A similar problem was solved in the case of an empty stretch of land underneath the high-voltage cables in Woensel. When these were placed, the government didn't expect Eindhoven to expand any further to the north. That turned out not to be the case, and today local residents look longingly at the empty land underneath the cables. An action group knew a Built Environment student who in turn was familiar with the Bouwkundewinkel, and the assignment promptly came about.
Advisory report
An advisory report was written, which has been sent to the municipality of Eindhoven. The idea is that the high-voltage cables will be relocated underground. "It's not certain yet whether this idea will be realized, but students did however prove that such a thing can be done."
The final product, for which applicants pay a maximum sum of 200 euros, is an advice. The client decides whether or not to have a professional party carry it out. A lot of preliminary work has already been done, in the form of analysis and concept. That's a major first step."
Students who are interested in taking this elective course can go to the website to see which assignments are on offer during the upcoming quartile. These assignments often relate to various fields of Built Environment.
innoSpace
"Our ties with TU/e are excellent, but not very active," Van der Does says. "Last summer, we had our assignments offered in innoSpace, but that became difficult once students from other departments enrolled, but none from the department of the Built Environment. Another problem is that we need to find supervisors from all those various departments. It's more practical to have a maximum of two supervisors from a Built Environment field per assignment. Considering the current work pressure, teachers find it hard to supervise one student, or a small group of students, so intensively." The teachers she can always rely on include Sophie Rousseau, Faas Moonen (also responsible teacher), Wouter Hilhorst and Hajo Schilperoort.
A Built Environment student hardly communicates with clients during the bachelor's phase. This is an important focus of the elective course Bouwkundewinkel (for both bachelor's and master's students). Personally, the chair regrets the fact that she didn't have room in her study program to carry out an assignment at the Bouwkundewinkel, even though she does have contact now in the master's phase with the municipality and the Dommel water board during her work for the Urban Lab. "I would like to have done the assignment for District E, or for the high-voltage cable terrain. If I ever find some time, I'll definitely look into it!"
Model example: Coffee house Eikenburg
The Bouwkundewinkel designed a movable and ecological coffee house in 2021 for a neighborhood garden located at nursing home Eikenburg in Eindhoven. The intended location was a patch of ground that wasn't suited for permanent construction. The garden, and the coffee house, would be visited by patients of the nursing home, volunteers, and possibly people from the neighborhood and school children of the nearby Sint-Joriscollege. The coffee house is based on simple construction techniques, which can be carried out to a large extent by non-qualified volunteers with the help of a few professional carpenters.