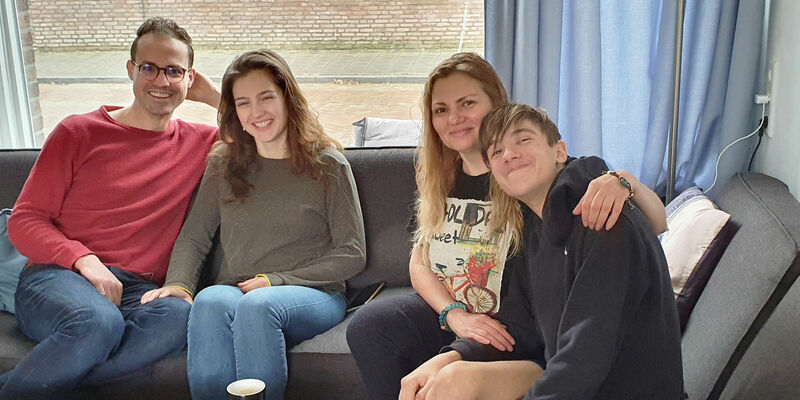 Student offers Ukrainian refugees a home
A Ukrainian mother and son who fled the war in their country have been taken in by TU/e student Miriam Pouwels and her boyfriend in Tongelre, Eindhoven. They have furnished their attic with two beds for Luba and Artem and there is also room for them in the living room and garden. "It's cosy, but it also takes a lot of time."
Miriam Pouwels (master's student of Architecture, Urbanism and Building Sciences) and her boyfriend Christian van der Krift (alumnus Industrial Engineering and Management Sciences) quickly agreed when the pastor of their church (Evangelical Baptist Church Het Baken) asked if they could take in Ukrainian refugees. "He knew we had the space for it and he was in contact with a church in Ukraine himself," says Christian. Within a few days, a match was made between the couple and a mother and her 14-year-old adolescent son.
"We feel that this is what we have to do on the basis of our Christian values and also as our civic duty. It would be selfish not to," says Miriam. Christian believes that the shelters offered by the Dutch government in, for example, sports halls fall far short of what is actually needed.
For three weeks, the four of them have been living together. "You need to get used to it, because we live different lifestyles, but we share everything. This includes the contents of the fridge and the pantry. For now, we pay everything, but the municipality is working on a plan to provide refugees with allowances for living expenses. How much that will be and when they will receive it is still unclear to us."
Biking lessons
Miriam and Christian receive a lot of help from their own network. Luba and Artem can sometimes eat at friends', and they have both been gifted a bicycle, which meant that Christian had to teach them how to ride a bike. What they did not think of before was the great deal of time that this act of kindness would consume. "We are pretty flexible and fast", says Miriam. "When we ride out bikes to the townhall, we arrive within ten minutes. Now that all four of us are going, it takes us half an hour. One appointment can easily take up three hours of your schedule. And you need to do this during the day as well."
The Ukrainian pair have been travelling for a week before they arrived in Eindhoven. Talking about it proves to be difficult as communication only happens through Google Translate, a bit of English, and many smiles. Christian does not like to broach the topics of war and home country: "You are careful not to hit a sore spot. They aren't very sad all day long; the sadness comes in fits and starts." Whenever Miriam notices that her guests are thinking about it, she sits down with them and offers a listening ear. Luba had to leave her parents and her adult daughter behind. Nevertheless, Miriam and Christian had been advised beforehand not to take on the role of a therapist. "That is not our part."
House rules
Up until now, privacy has not been a problem. In fact, Miriam and Christian noticed that mother and son tried to stay out of the way as much as possible and spent a lot of time in the attic. After one and a half week of settling in, they made a list with house rules together. "We did it to prevent annoyances. At the top: you can always be in the living room. Number 2: always put the toilet seat down. Also: we always sit together at the table until the end of the meal."
"To me, it is important that they feel at home. We noticed at the beginning that they were afraid that this was only a temporary stay. But we offer our home as long as it is needed until they have found a better place. Sometimes it is quite cosy. We play games such as Rummicub, Triominos and Settlers of Catan. We also sometimes watch English movies with Ukrainian subtitles."
Teenager
Artem won't let them forget that in the end, he still is a teenager. "He games a lot, the past night as well. He eats little of the veggie-rich dinner that we make, but he does snack on cookies and chips. But yeah, we aren't his parents. He isn't our responsibility. Luckily, we can turn to our friends to vent from time to time", says Christian. Miriam emphasizes once again that she thinks it is incredible how positive the refugees are under the given circumstances. "There are no daytime activities yet. Artem might go to school soon. It will be in Blixembosch, which means cycling 16 kilometers every day. I hope that there will also be something for Luba. She was a nurse in Kyiv; I have the impression that she had an active life.
The need
What the caregivers need themselves is more clarity in the information provided by the government. "There are ten thousand sites," says Miriam. Christian adds: "I hope that everyone who is taking in refugees does not have to keep figuring out what to do by themselves."
They do not know anyone else who has taken in refugees. Is it something you would recommend? "Yes", Miriam thinks. "But really do question yourself whether, aside from space, you have enough time for them or at least make sure you have friends and family who could help out. It is much more than offering them a roof above their heads; you're here to help them 24/7. Nevertheless, it truly is something special to do."