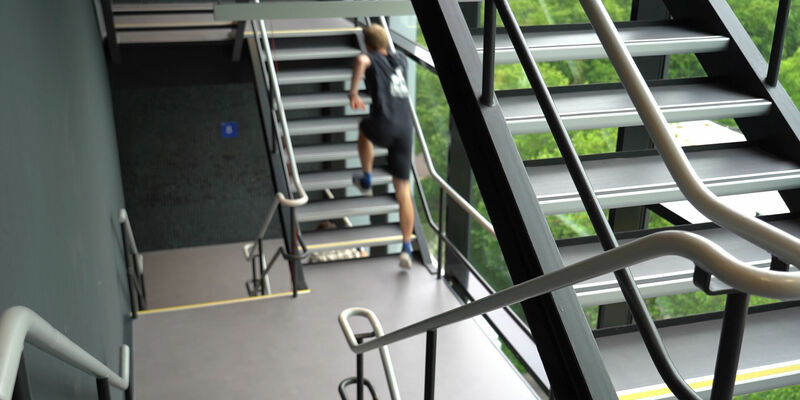 Sports

,

Student

07/06/2022
Stair Climbing Championship makes comeback
Almost sixty students climbed the stairs to the top floor of Atlas as fast as they could on Monday. Some of them were able to finish the tough race running until the end, others were already struggling on the third floor. The Eindhoven Championship in Stair Climbing already existed 25 years ago, back then it was held in T-Hoog: now Vertigo. Members of student house Wittegijt found out about the race and decided to revive it for a new edition.
About sixty contestants reached the twelfth floor of Atlas cursing, panting and sweating during the stair climbing championship on Monday. Also co-organizer Ben Esseling found the guts to join the climb: "I didn't enjoy it, no." Still, him and his housemates of Wittegijt got really excited when they found an old article about the championship in the 90s, in an old publication of Crisis (the magazine of student ice skating association Isis, red.). "We were instantly hyped."
The group of students decided to revive the sport event, together with Isis. Stehven and ESSF weighed in financialy and even the building management of Atlas was excited. Even though the organization was enthusiastic about the event, it turned out harder than expected to find contestants for the stair climbing competition. "We had space for 120 contestants", says Esseling. "Around sixty people ended up competing, so there would have been room for more." Apparently a lot of students weren't too keen on climbing the 53 meters tall building.
Students who did appear at the start, were really fanatic, though. They showed up at the bottom of the stairs completely in sportswear and with a starting number pinned on their bellies. They stormed up the 266 steps and hit the home-made button at the top to register their time. Of the seven women who entered the competition, Saskia Beumers was the fastest with 1 minute and 38 seconds. Out of 52 men, Robin van Velzen, of the Eindhovense Studenten Alpen Club, was fastest, with 54 seconds.
Team Wittegijt Inc. had the lowest average time of all, with 1 minute and 8 seconds and won a meter of free beer. If there's going to be another edition next year, Esseling doesn't know yet. If he'll be climbing the stairs, he does seem to be very sure about right after his race: "I won't ever do this again."