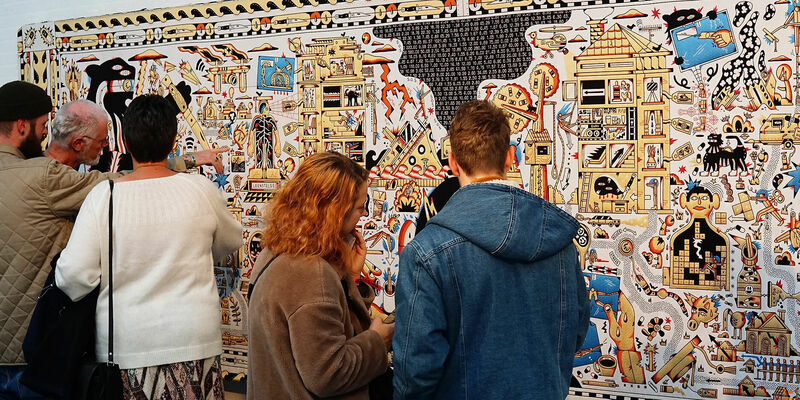 Culture

,

Student

26/05/2023
The enormous tapestry made by 31-year-old Mart Veldhuis is called 'Eigen Schuld', which can be translated as 'Own Debt' or 'Own Fault'. The work depicts a lot of cartoon-like symbols: two aggressive 'State Lions', blue tax envelopes, price tags, a stressed student in the middle, smashed piggy banks and a supermarket named 'Altijd Pijn' ('Always in Pain'), with a logo resembling that of Albert Heijn.
The artist sold the tapestry for 45,879.40 euros, the amount of student debt he accumulated during his studies at HU University of Applied Sciences Utrecht. He cannot yet fully pay off his debt, however, because he will have to pay tax on the sale, according to De Volkskrant.
Criticism of the loan system
Tapestries criticising "social and political developments and problems" have been used for centuries, the artist writes on his own website. His work follows that tradition: it symbolises the life of a student who is weighed down by his ever-increasing student debt.
The art dealers who purchased the work want it to be put on display to the general public. It is currently on loan to the Dordrechts Museum. Veldhuis tells the newspaper he would prefer it to be hung in the House of Representatives. He hopes that future policymakers "would then always think twice" before introducing such a system again.
The loan system ends after this academic year. The basic student grant returns in September.