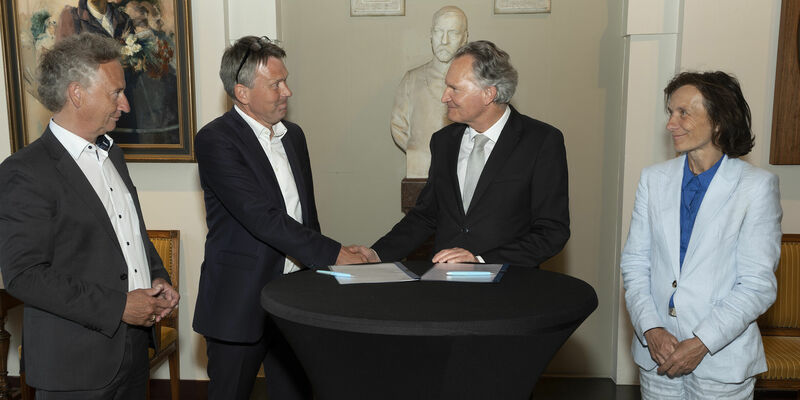 The University

,

Research

24/05/2023
TU/e and NXP Semiconductors intensify collaboration
In signing a letter of intent, TU/e and NXP Semiconductors have expressed their ambition to jointly develop a new, groundbreaking generation technology for wireless communication, at frequencies above 300 GHz. From the TU/e side, the Eindhoven Hendrik Casimir Institute (EHCI) is involved.
In the Memorandum of Understanding (MoU), that was signed yesterday, both parties state that they will make knowledge and data as well as the necessary employees and students available through a new roadmap, in order to make major strides in the future in the speed, efficiency and stability of information transfer. This is not the first partnership between TU/e and NXP; the two parties have been working together successfully for years on smarter, safer and cleaner mobility systems.
Higher bandwidths
From the TU/e side, the Eindhoven Hendrik Casimir Institute (EHCI) is involved. Scientists from the institute, together with specialists from NXP, will conduct research into, among other things, semiconductor technology that enables significantly higher bandwidths than are the case today. The goal is to achieve communication at high frequencies, above 300 GHz, something that is difficult at present due to the very limited performance of current technologies for these frequencies.
New wireless technology generates endless possibilities in a society increasingly focused on 'plug-less' applications, such as IoT devices, augmented and virtual reality (AR/VR) as well as applications in the medical or mobility sector, like replacing wires in airplanes with wireless connections.
Strategic sovereignty
Robert-Jan Smits, president of the TU/e Executive Board, about this MoU: "TU/e is known for its pioneering work in the field of wireless communications, a field that is essential to the strategic sovereignty of both the Netherlands and Europe. NXP has been an important partner in this area for many years. The MoU will further intensify the cooperation between TU/e and NXP."
Lars Reger, executive vice president and CTO of NXP, said that partnering with leading universities is an integral part of NXP's innovation strategy. "And TU/e's proven track record in collaborations with industry gives us full confidence to expand our cooperation in new research areas focused on communication and sensing systems. This will lead to new innovations in communication technologies and advanced driver assistance systems, a domain in which NXP is the world leading semiconductor provider. With advanced driver assistance systems we aim to contribute to reducing the over a million fatalities in traffic each year globally."
This is the second time within the space of a month that TU/e has strengthened its ties with a major partner from the Brainport region by signing an MoU. In April it was announced that ASML research would be building a cleanroom on the TU/e campus, in part to conduct research together with TU Eindhoven focusing on plasma physics, artificial intelligence, mechatronics and semiconductor lithography.
---
On the main photo from left to right: Maurice Geraerts, executive director NXP Netherlands, Lars Reger, vice-president NXP, Tue president Robert-Jan Smits and Silvia Lenaerts, since May 11 the new rector of TU/e.