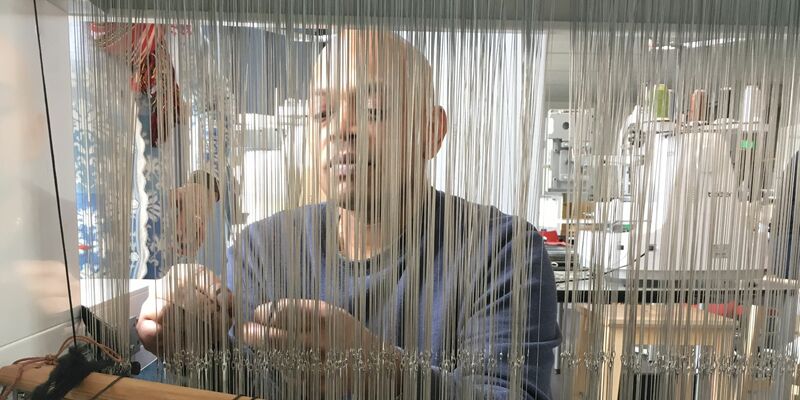 Employee

,

People

15/09/2023
"I want to help pull Suriname out of the analogue world"
Whatever the researchers at Industrial Design think up, Chet Bangaru can make. And he loves the dynamics at the department: the students, the international element, the maker mentality and the social consciousness. In spite of all this, after seventeen years the research assistant is leaving Eindhoven for Paramaribo to use and share his knowledge and skills for the good of the local community.
Some events shape one's life. For TU/e employee Chet Bangaru (50), such an event was the loss of his father last February. During the mourning period, which lasted a month in keeping with the Hindu tradition, his thoughts turned to the future. He decided to return to Suriname, the country that he left in the company of his parents, brother and four sisters at the age of seven.
"I'm the youngest. My parents, who never really got used to the Netherlands, went back to Paramaribo after retiring. My mother lives there alone now; all the children are still in the Netherlands."
The idea that she would be alone if something happened was a factor. Just like the fact that both of his own children are now young adults. He will miss them terribly, but "knowing that they'll visit often, so they can also discover their Suriname roots, makes the adventure all the more special."
The idea of wanting to do "something completely different" had taken root with Bangaru a while ago already. "During the COVID pandemic, actually. As a lot of my work at TU/e was temporarily suspended, I rented a workshop at Sectie-C. I really liked working independently there and helping customers bringing their ideas to life."
With his knowledge of digital modelling, for instance, he helped an artist make a blow-up of his hands consisting of layers of wood. "Maybe you've seen them: they're on Ketelhuisplein in Strijp-S."
Mango trees
In Paramaribo, Bangaru wants to set up his own lab as well. "In the garden my parents planted. It's a gorgeous place, full of mango trees, pepper plants and cassava." Part of the required equipment – 3D printers, a laser cutter – is already in an ocean container in Amsterdam, waiting to be shipped. "It takes five weeks."
He wants to use his knowledge on software, machines, materials and processing for the good of the community. "When you enter a hospital in Suriname, it feels like you're transported back in time. There are filing cabinets stuffed to the brim everywhere, with not a computer in sight."
The medical world being mostly analogue there, Bangaru wants to demonstrate the opportunities digital technologies present. "For instance, I can make custom-designed prosthetics and medical aids, such as wheelchair parts. The manuals you need for this are all online thanks to Creative Commons."
Out of the analogue world
As Bangaru will be working on a non-profit basis, and the Department of Industrial Design (ID) wanted to support his plans, the departing employee was given an appointment as a guest researcher. He's grateful for this: "It means I can keep using my laptop, just like the – expensive – software. And it also allows me to stay an active member of the design community."
In his lab, Bangaru also wants to transfer his knowledge to the community. It bothers him that Suriname, although liberated from the colonial yoke, remains a country with little progress. "Why don't the digital technologies we use in the Netherlands make their way to Suriname? I want to break through this pattern and help pull the country out of the analogue world."
Dovetailing with this ambition, he drafted a proposal for the Creative Industries Fund NL, responding to a call on the colonial past of the Netherlands and how to make this more visible. "I hope my proposal is approved. The department pointed me in the direction of the call and offered to support me in executing my plan."
"I want to ask young people from Suriname how they would like to visualize the colonial past using digital technologies," Bangaru says in an effort to explain his idea. He wants to record their stories and help them realize their designs, conveying to them the modern-day digital and technological knowledge whose importance can hardly be overstated.
Nerds
The social awareness that characterizes Bangaru is something he's always been able to share with his colleagues and the students at TU/e, to whom he's now saying goodbye after a career spanning seventeen years. ID is an exceptional department, he says. "We're nerds, just like everyone at TU/e, but then in another field: that of creativity, art and the social aspect."
"Here, we're not busy designing 'just' another new car, phone or TV, but we look at the problems in the world and how we can help solve them by making things." Sustainability, for instance, is a big theme. He's full of enthusiasm while giving us a tour of the labs, telling us about the machines and pointing out all kinds of designs by researchers and students.
A mannequin is sporting an item of clothing made from apple-pulp 'leather'. A bit further on, we find material that is composed of mycelium – the spores of fungi, which normally grow underground. Its potential applications include using it as an acoustic material, to dampen the noise coming from a room.
Cool
Bangaru, who regularly doubled as a DJ at ID parties, will really miss the atmosphere at the department. Annual highlights were design event DDW and light festival GLOW. "Those were really festive weeks – or at least they felt like that. We didn't only work on projects on both festivals, but also set out to be inspired ourselves."
And then there's the students' enthusiasm, the international environment and the feeling of "building a new world together", Bangaru lists. "The dynamics are so cool here," he says in closing. And it's clear he means it.
In the main photo at the top: Chet Bangaru at a loom in ID's Wearables Lab, photographed by colleague Kristina Andersen.