Guilt-tripped by an owl
10/10/2019
Hello Mr. Owl… What did you bring us today… an addictive app? Yes, an addictive app. Like with any other proper addiction, this is not something to be happy about. The app and I have a love-hate relationship where the addiction (the app usage) imposes itself and makes me (the addict) act compulsively.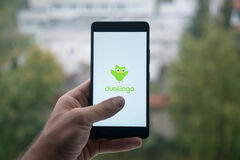 The culprit is a green owl named Duo, of language app Duolingo. For the last week – I'm living in Norway now – Duolingo has been reminding me daily, and sometimes even more frequently, that I need to brush up on my Norwegian by quickly taking a language course. And it's starting to bear fruit: I feel a deep connective with random Norwegians in the street these days, thanks to brilliant opening lines such as 'you are a woman, he is a boy,' and 'this is an apple, I am a girl.'
However, Duo is not going to take no for an answer if you don't feel like taking a language lesson right now. When you don't respond to his hoo hoo's reminding you it's time for a lesson, he will keep on (h)owling all night. Because besides a tsunami of push messages, Duolingo carried out A/B tests to see how it can best use the image of a crying owl to persuade its users to come back. In other words, Duolingo tried to find out how they can best guilt-tip users with a digital green owl. They've got some nerve.
My relationship with study finance agency DUO wasn't all that great back when I was a student, but Duolingo truly is a nemesis. No, I prefer Hedwig. On the one hand, I understand that green owl: learning a language is important. On the other hand, I also like to take the easy path: when I notice that everyone around me speaks English as well, I lose sight of my motivation to learn Norwegian as quickly as Duo catches sight of its prey.
Social interaction
Practicing and filling in words each day seems like an 'asocial' activity to me. I have to admit that I was already fed up with it when I had to fill in the proper case in 'Es weht ein stark__Wind' during German lessons, but I can only learn the subtleties of a language through social interaction. Duolingo doesn't tell me which words can be used ironically, or which words are ambiguous. I can only learn that by talking with friends and, for example, cashiers.
I believe this is something we do wrong in Eindhoven as well. Everything is so perfectly organized for international students, that they don't even get the chance to learn Dutch. Except for our lunches, which are still Dutch and consist of bread, EVERYTHING else is English. You only have to accentuate the second syllable in 'bonuskaart' instead of the first, and the cashier immediately switches to English. That way, internationals never learn to speak Dutch.
Duo does have a point there: learning a language is important. As far as the rest is concerned, that owl is just pushy asshole who's wrong. I simply want to go back to those old-fashioned, sociable language classes.