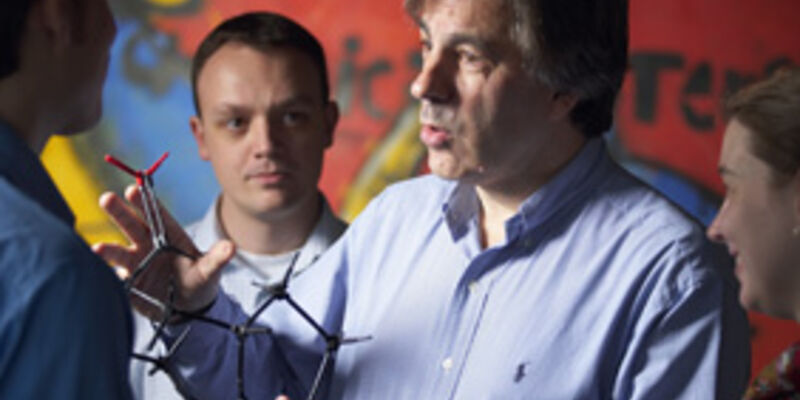 Bert Meijer appointed to Governing Board NWO
Professor Bert Meijer has been appointed by the State Secretary for Education, Sander Dekker, as a member of the Governing Board of the Netherlands Organisation for Scientific Research (NWO). Bert Meijer is a University Professor at Eindhoven University of Technology. He will join the NWO Governing Board with effect from 1 January 2013. He is the successor to retiring member professor Ben de Kruijff.
NWO chair Jos Engelen is pleased to welcome Bert Meijer to the Board: 'Bert Meijer is a leading scientist with an impressive track record. He intimately knows and values the academic world and he has a good knowledge and understanding of the research-intensive industry. In addition to this he has considerable managerial experience. He is the ideal person for the NWO Board and is committed to helping steer NWO policy in a dynamic period.'
Meijer is a University Professor, professor of organic chemistry and scientific director of the Institute for Complex Molecular Systems at Eindhoven University of Technology. He also holds appointments at Radboud University Nijmegen and the University of California, Santa Barbara. He has started up several companies to valorise the results of his research. He has received many prizes for his scientific achievements including the NWO Spinoza Prize. Meijer is a member of the Royal Netherlands Academy of Arts and Sciences and the Royal Holland Society of Sciences and Humanities. Between 2001 and 2008, Bert Meijer was chair of the NWO Chemical Sciences Board.
Bert Meijer: 'I very much believe that groundbreaking scientific research lies at the basis of all the major challenges society faces. As a member of NWO's Governing Board I am therefore committed to encouraging Dutch science and supporting researchers who do groundbreaking research.
The NWO Governing Board is responsible for establishing the policy framework and the budget. With effect from 1 January 2013 the Board members will be Jos Engelen (chair), Franciska de Jong, Bert Meijer, Cees Veerman and Marianne de Visser.