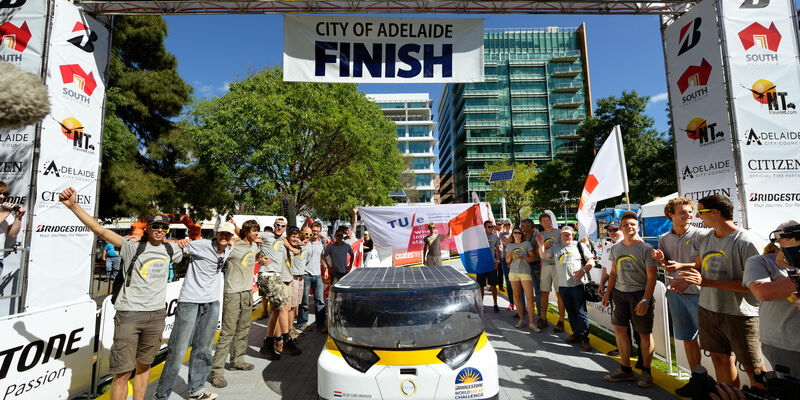 "Left with a dream, returned as world champions"
"It's really weird to return after such a long time", says Lex Hoefsloot, team manager of Solar Team Eindhoven (STE). The last Solar Team members were welcomed home by their friends and family on Schiphol Airport last Monday. With these eight students back in the Netherlands, the whole team is home. Initiators Lex Hoefsloot and Roy Cobbenhagen look back on an unforgettable experience.
The two never imagined the outcome of this year's Solar Challenge. "We had no idea what to expect. We've worked really hard. We experienced many setbacks, but even more highlights: the presentation of the car, qualification, most points in a single day. You just do what you have to do, and then all of a sudden you win. It's been a rollercoaster ride, the best experience of my life so far", says Cobbenhagen.
Team manager Hoefsloot: "It's been an amazing success. And we've really underestimated the level of involvement in the Netherlands. We've received so much attention – it's made a lasting impression."
Next week all team members will be reunited once again. It's been a while since they last saw each other. The meeting is also meant to discuss the future of STE. Hoefsloot: "We're going to put together a new team. Our role will be an advisory one mostly, and it will be a tough job passing on all our knowledge. We know we've set the bar pretty high, but it can go much, much higher as far as we're concerned!"
The team will be honored in Eindhoven on 19 December, and of course solar car Stella will be there as well.. The exact program of the ceremony is yet unknown.
Are you interesting in being part of the team next year? Let Solar Team know through infor@solarteameindhoven.nl or Lex.hoefsloot@solarteameindhoven.nl.