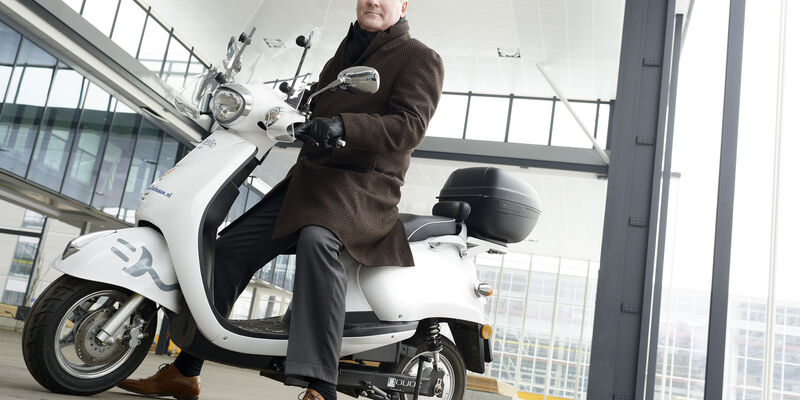 TU/e starts pilot with e-bikes en e-scooters for employees
From February, TU/e employees can borrow an e-bike or e-scooter for a week. The university hopes these electrical means of transportations will encourage employees to think about green alternatives for commuter traffic. The goal of this experiment is to create a greener, sustainable campus and university, with fewer cars.
The experiment comes from a special taskforce at the TU/e Housing Department. It's assignment is to investigate smart ways of transportation to and from, but also on campus. The taskforce is currently working on a so called mobility plan with concrete proposals. Lending the electrical bikes and scooters is just one of these proposals. "They are cheaper, better for the environment and healthier than cars", Paul Bezembinder from the taskforce elaborates. "We want our colleagues to experience these e-bikes and e-scooters. And maybe they will consider it to be a good alternative to commuting by car."The main target group are employees living between seven and twenty kilometers from the TU/e campus. Kevin Hulskamp coordinates the experiment on behalf of the Housing Department: "Lots of people that live within seven kilometers of our campus already use their bicycle to get here. We aim at the ones that have to travel just that little extra bit. They are the ones that need to be stimulated to come by bike instead of car, because they have to travel further. And they do not want to arrive at work all sweaty."Three electrical men's bikes, three lady bikes and four scooters will be available for the experiment. The maximum speed for all of them is 25 kilometres per hour. "Of course they can go faster, but the driver has to wear a helmet", says Hulskamp. "Besides, in that case there are other obligations in assurances for TU/e, since the university is loaning the bikes to its employees."The pilot starts February 4, and will take six months. Total costs: ten thousand euros. It was a well-considered decision to start off during the winter season, says Hulskamp: "That will give us a good example of the interest, including bad weather." The experiment is successful when about two hundred employees indicate they consider an e-bike or -scooter to be a good alternative for the car. In that case the TU/e will look into fundings for employees to purchase an e-bike or e-scooter of their own.
For questions, send an email to Kevin Hulskamp.