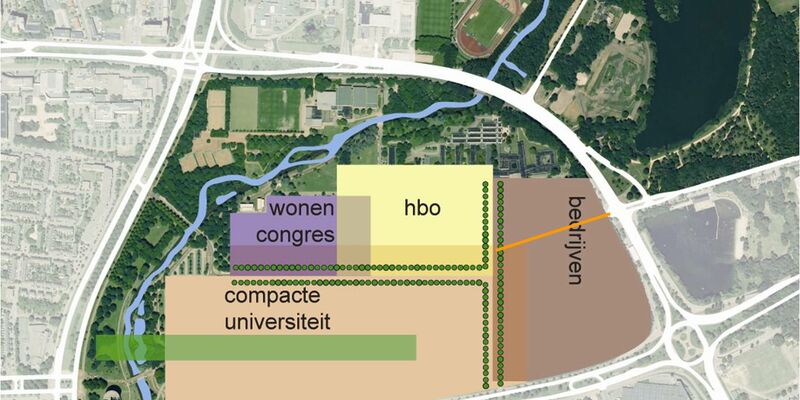 TU/e and BOM join forces
TU/e and Brabant Development Agency (BOM) intend to work together to speed the development of the TU/e Science Park as an incubator for innovative companies. The collaboration is intended to lead to improved opportunities for the survival and growth of start-up companies. Both parties signed a letter of intend in the Leerfabriek center in Oisterwijk today.
The aim of the collaboration is to support innovative companies in their development and in turning their initiatives into viable and successful enterprises. The focus is on projects relating to sustainable energy, smart mobility and healthy ageing. These are in line with the TU/e's Strategic Areas of Energy, Health and Smart Mobility.

The university campus is intended over time to be transformed into a place where research, entrepreneurial studying and start-up businesses come together and create synergies. BOM contributes to this aim through its expertise in Business Development, Capital (financing), Business Locations and Foreign Investments, and attracting knowledge-intensive international enterprises.

According to Jan Pelle, director of BOM, collaboration between BOM and TU/e will lead to synergies and new business opportunities in the region. "By joining forces in this way, we will be able to increase the opportunities for TU/e Science Park to create prime new economic activities in the Brabant region. A well functioning innovation ecosystem is a prerequisite for our region to maintain and further develop its strong international position. The interaction between ideas and enterprises can lead to new products, services and companies with a global impact.'

For BOM the collaboration offers improved access to the knowledge, facilities and entrepreneurship of TU/e and the TU/e Science Park. This will enable good links with the work of BOM aimed at developing and financing companies and business clusters across the whole region.

"The collaboration with BOM supports the university's ambitions of transforming knowledge into value", says TU/e Executive Board president Jan Mengelers. "Technology transfer of our research results is vitally important, together with our primary tasks of educating good engineers and carrying out related research at an excellent level. The network, the expertise and the financial strength of BOM can on the one hand provide extra support for start-ups, and on the other are of tremendous importance for the development of our Science Park campus. This can further strengthen the dynamics of both Brabant as a whole and for the Brainport region"
Source: TU/e Press Team