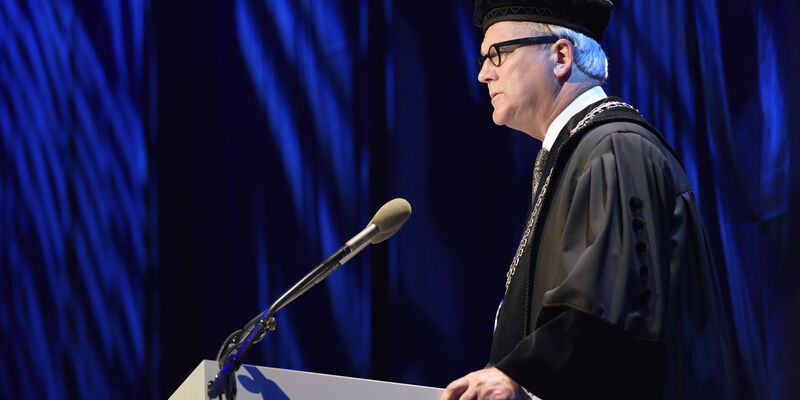 Rector celebrates successes at Opening Academic Year
A steep student increase, scoring well in national and international rankings, extraordinary performances by the soccer and care robots in Brazil, and perhaps even an auxiliary branch in Den Bosch: Rector Hans van Duijn explicitly touched upon the successes of his university in his speech for the Opening of the Academic Year yesterday.
A total of approximately 2,600 new bachelor, transition, and master students have enrolled in a TU/e program this year. According to Rector Hans van Duijn, that number clearly shows the huge progress the university over the past years.Van Duijn also revealed the possibility of the launch of a new Graduate School in Den Bosch as part of a partnership with Tilburg University. The auxiliary branch is to be an academic educational institution offering three master tracks: Data Science, Entrepreneurship, and Governance. In the months to come, the two universities will be conducting a feasibility study, mapping the ever-growing need for academic data scientists, entrepreneurs, and managers.The final implementation of a TU/e code of conduct for practicing science was also announced by Van Duijn. Already in June of this year did Cursor report about <link http: www.cursor.tue.nl nieuwsartikel artikel tue-voert-eigen-wetenschappelijke-gedragscode-in _blank externe link in nieuw>that code, and this week academic staff will receive a letter on the matter. Among other things, the letter states a code of conduct for conflict of interest is soon to be set in stone as well.The education prizes for best bachelor and master teacher were awarded to Daniël Lakens (bachelor) of the School of Innovation Sciences, and associate professor Zümbül Atan (master) of Industrial Engineering. Last but not least, the successful teams responsible for the TU/e soccer robots and care robot AMIGO that landed a first and second place respectively at the World Cup this year were put in the limelight and treated to flowers.