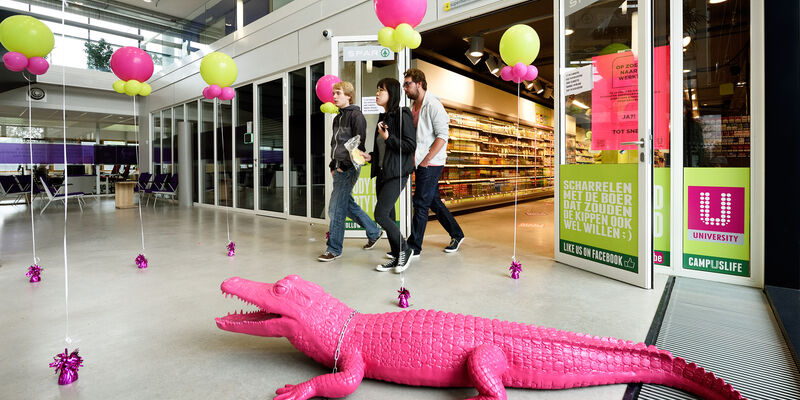 Lots and lots of gum in new university supermarket
On the first day of the Intro the fourth Spar University in the Netherlands opened its doors in Flux. Cursor went shopping with a special grocery list, put together by six random students. One of their items was unavailable, for all the others we were spoilt for choice.
Headed for the new supermarket located at the east end of campus in Flux, Cursor asks six students what they would buy there, if possible. The answers are straightforward: gum ("in a container, for no more than three euros"), bread, sandwich meats and cheese for lunch, apple juice and chocolate milk ("a liter for 1.5 euro, tops"), tampons, tissues, and pens.
Entering Flux through the rotating doors you can't miss the cheerful purple and green balloons in honor of the opening on your right. Grocery list in hand Cursor starts their quest looking for chewing gum. The store sells twenty-two different kinds in the sweets section, prices ranging from 1.83 to 5.49 euros. Then there are throat lozenges, mints, and other items for fresh breath.
Cursor skips the elaborate collection of chocolates, as the search should focus on lunch needs. Spar has eleven types of sliced cheeses, and another thirteen cheese spreads. For sandwich meats, customers can choose from a wide array including ham, smoked beef, and pate. There's bread, too: all kinds from 80-cent rolls to half loafs for 1.26 euro.
Apple juice? Yes. Chocolate milk? You name it, they've got it: fresh, UHT, or in little boxes? The store has two shelves of non-food articles for students who need tampons or something for their cold. Pens, however, are not (yet) available here.
Supermarket entrepreneur Mirjam Bestebreurtje is cool about it: if there's a demand for pens, they might add that to their product range. "Currently, we don't have a shelf for office supplies. I wouldn't know where to display pens, as it's only a small store."
Bestebreurtje was pleasantly surprised when TU/e Executive Board member Jo van Ham came to congratulate her on opening the store. "He said it's a real asset for the campus." Then Intro dad Neil Timmermans of Electrical Engineering walks in to buy a sandwich and a dairy beverage. He had been unlucky at lunchtime. "All the good stuff was gone immediately." And being the good daddy he is, he let his Intro kids eat first. Thank god there's a supermarket in his building from now on.