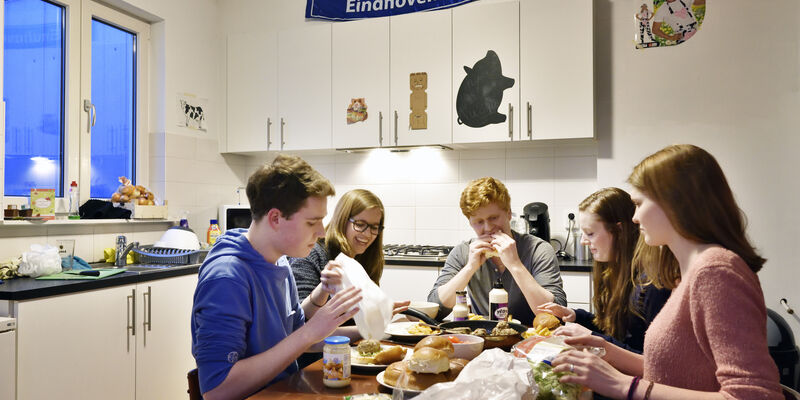 Dinner @ Villa Kakelbont
Cursor visits a studenthouse in Eindhoven every two weeks. The cooks reveal their secret recipes and we get to know the house and it's inhabitants. This time: Dinner @ Villa Kakelbont, Stratumseind 38a.
by
Tiny Poppe
What makes living in this house fun?
"Stratumseind," says Youri van Eijk, first-year Chemical Engineering and Chemistry, referring to the street itself, which is known for its nightlife. They don't just live there, it's where they go out every Thursday night. "Costa is popular," says Job Nijhuis, another first-year Chemical Engineering and Chemistry student. "But mainly we check out the places with discounts, after all we see them during the day whenever we walk down the street," says Laura Kuntze, second-year Applied Mathematics, the last person to come and live in the house. They have all enjoyed sharing a house for a year so far. "Cooking, eating, going out, hanging out in each other's rooms, and cleaning whenever," says Myrthe Oostenbrink, first-year Nursing, summing up their shared activities. For Lisa van Heyningen, first-year Built Environment, choosing Eindhoven has turned out well. "I'm really happy with the study program and my housemates."
How did you all end up here?
"Through a realtor," says Job. "Laura is the only one who had to 'interview' for a room. She beat eight other students, but now we'll be introducing a stricter selection process," he laughs.
Do you already have traditions or house rules?
"We haven't been living here long enough to have any real traditions," says Job. "But if you ring the doorbell for no reason, you have to do what is called an 'adje trechten', which means downing a beer (adje) in one go via a funnel (trechter). The funnel was the mascot of a housemate of ours during the Introduction week," he says in explanation.
Recept: Hamburgers à la Youri
Dit gerecht maakt deze 'vleesspecialist' tot nu toe alleen klaar bij speciale gelegenheden, zoals aan het eind van de tentamenweek, met Carnaval en deze keer - voor 5 personen - omdat Cursor langskomt.
-Meng een kwart flesje Texas Barbecue Seasoning mix, 2 eieren, 2 in kleine stukjes gesneden uien, 2 beschuitjes, wat peterselie, zout en peper door 1,5 kilo gemengd gehakt.
-Rol hier hamburgers van.
-Haal frites bij de fritesboer.
- Snijd ondertussen een half pond tomaten in schijfjes.
- Zet een geopende zak sla op tafel.
-Leg voor ieder 2 witte broodjes klaar.
- Breng alles op smaak met knoflooksaus en mayonaise.
- Verdeel geraspte kaas over het geheel.
Eet smakelijk!
Hoe komen jullie aan het gezamenlijke meubilair?
"Deze boxen hebben we gekocht van de opbrengst van het statiegeld van kratjes. De bank hebben Job, Youri en nog een andere huisgenoot van de buitenste ring van de stad hier lopend naar toe gesleept, want hij paste niet in de auto." legt Youri de keuze uit, terwijl hij ondertussen de zak sla langzaam leeg eet. De bij het meubilair horende huismascotte in de vorm van een varken ligt - om onduidelijke redenen - buiten op het dak. De andere staat op de ijskast. "Er is nu een actie bij Jan Linders met dieren en het varken vinden we gewoon het leukst", aldus Lisa.
Hebben jullie nog leuke dingen gepland?
Volgens de bewoners komt er snel een huisfeest en moet Job volgens Lisa - omdat hij niks aan sport doet- een keer mee naar de zumba.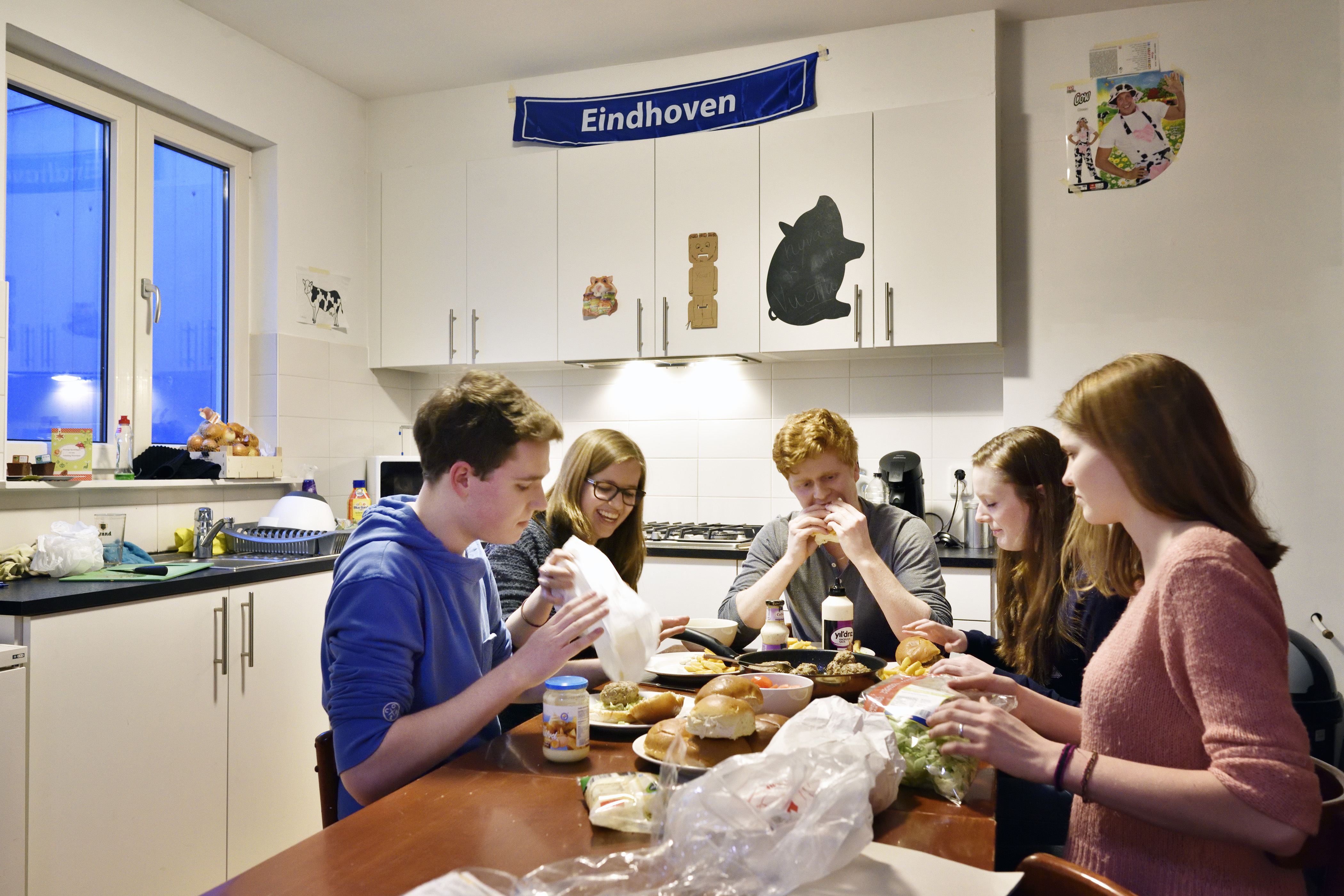 Wil jij ook met je huis in deze rubriek? Stuur ons dan een mailtje!
Smaakt dit artikel naar meer? In onze rubriek 'Aanschuiven bij' vind je alle verhalen tot nu toe.