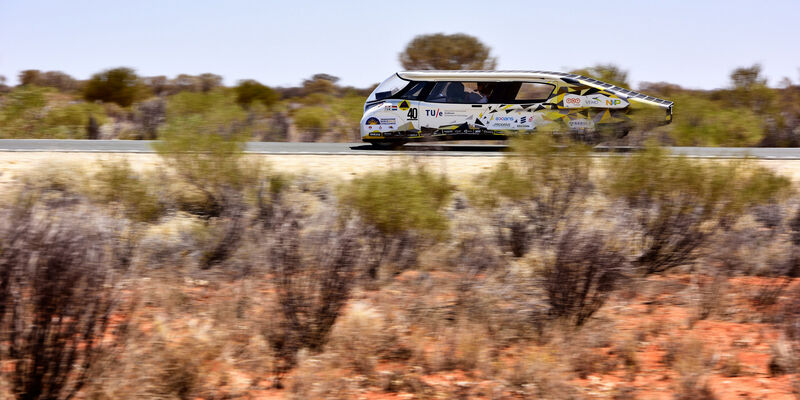 Can just one battery charge carry Stella Lux a thousand kilometers?
Solar Team Eindhoven aims to drive a thousand kilometers in Stella Lux powered by just one battery charge. With this world record attempt, on December 2nd in Texas, the Eindhoven students hope to surpass the past performance of their Australian colleagues (five hundred kilometers on one battery charge).
Last year during the race in Australia, the Eindhoven team showed what Stella Lux is capable of achieving, by driving 1500 kilometers on just one battery charge. But, stresses team member Tom Selten, "We covered that distance over a three-day period and with the solar panel on the roof also generating energy. In Texas we will be powered solely by our battery and driving without interruption, stopping only briefly now and then to swap the driver."
The record attempt is taking place at the Uvalde Proving Grounds in Texas, a 14-kilometre test circuit where no fewer than 70 circuits must be completed. Rather than ambling along at a shabby speed of about 30 kilometers an hour, the team is keen to drive at a realistic speed averaging 80 or perhaps even 100 kilometers an hour, "just like a regular car".
To ensure compliance with all the rules of the international motoring federation FIA, the car had to be modified in a number of respects. More safety measures, for instance, were necessary, including the installation of a five-point seat-belt for the driver.
Stella Lux will already be starting her journey to the United States this weekend. Loaded in a container, she is being be shipped in good time to participate in a major trade show in Orlando. Here, Solar Team Eindhoven will be presenting its wares, together with one of the team's sponsors. TU/e will be represented at this event by four team members; another ten people will join the team later on for the attempt on the record in Texas.