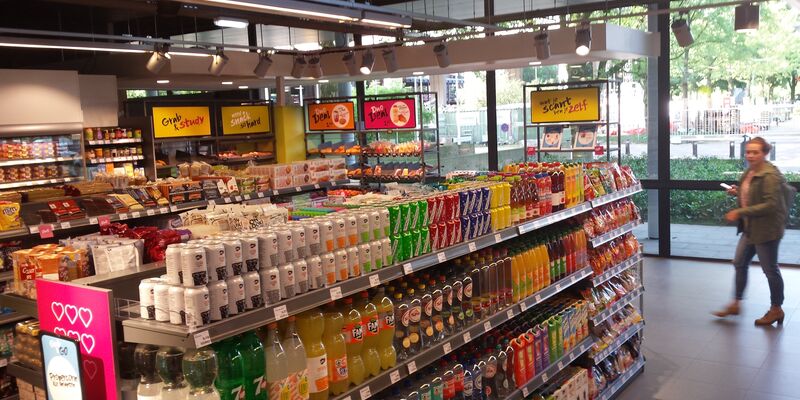 Second Spar outlet larger and open all days
Considerably larger and open all days. Those two aspects distinguish the second outlet of Spar University, in Luna, from the existing shop in Flux. This morning it opened its doors and before long students studying in MetaForum can also use the walkway and a spiral staircase to get direct access to the mini-supermarket.
by
Han Konings
The first visitors to the new Spar outlet are an unexpected group: the builders from Van Wijnen construction company, who are busy renovating the Atlas building, are gently inquiring after today's special offer. For today that would be a bottle of freshly squeezed orange juice and a croissant for €1.50. Their presence cannot really be a surprise, as the Van Wijnen 'site hut' is dead across the entrance to the supermarket.
Patricia Korporaal, who oversees the shop managers throughout the Netherlands, is thrilled with this new outlet. "This second outlet is considerably larger than the first one in Flux and consequently has a much broader product range as well. That can really bear comparison with the range of a small supermarket. Every day we work with a permanent staffing of five and a group of students as temporary employees. At present we are still looking for people who are interested in that."
Erwin Binneveld, who founded Spar University in 2013 together with his wife Mirjam Bestebreurtje, is also present this morning. Binneveld thinks that this outlet is located at an ideal spot on the campus. "For starters, we attract students from the Luna student tower block, which is adjacent to this outlet, and students from Aurora, which lies at the back here. That is why this outlet is open all days, whereas the one in Flux is only open on working days. In addition to this, there are students who attend lectures here during the day and who study in MetaForum. Especially for that group we will soon install a spiral staircase, which gives direct access to the supermarket from the first-floor level. And at the end of 2018 the occupants of Atlas, which will then have been fully renovated, will join these customers."
After Utrecht University, TU/e is now the second university featuring two outlets of Spar University on the campus. Binneveld: "The deal as we concluded it at the time was to start with a small outlet in Flux first, with a promise that we could open this new outlet later. Still, we are going to keep both outlets open." Binneveld does not venture any statements about the turnover, "but let's say that we are quite pleased with it and that we have great expectations from this new outlet."