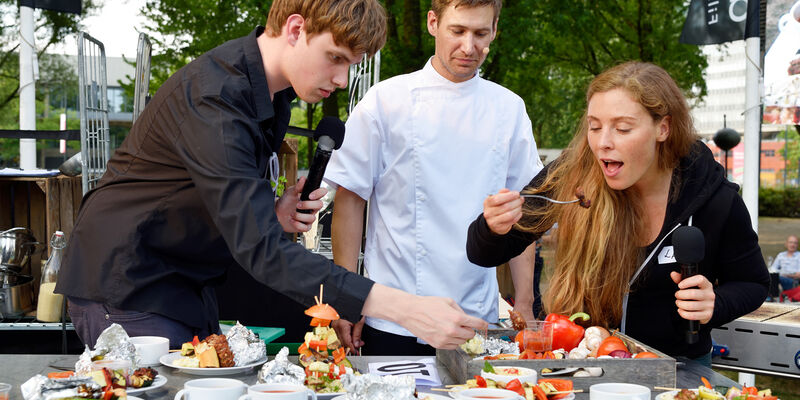 Cooking workshop tastefully closes academic year
Vegetable kebab on a bed of couscous accompanied by fish and mince from the barbecue. In short, there was tasty food to be had at the cooking workshop that this year marked the close of the academic year. Head chef Frank Wirl of De Zwarte Doos taught his aspiring cooks on Friday June 23 how to carve a tomato into a rose and how to pack the fish with leek rings and lemon slices in aluminum foil. Cursor joined in the cooking for fun.
Eighty participants chopped and baked together at the first edition of the Community Food Event, organized by study associations Simon Stevin (Engineering) and Cosmos (international students). The table plan was arranged by the organizers so that everyone had the chance to meet new people.
Lara Hofstra, who works for General Affairs, and Cosmos board member Niels de Jong set the mood by interviewing chef Frank Wirl and Rector Magnificus Frank Baaijens on the stage. "It is great to sit down to eat with students and coworkers, and to meet people of other cultures," said Baaijens.
Hofstra mentioned that a competitive element had been added to the cooking workshop. The most beautiful and delicious results would be included in a three-course menu for ten people at De Zwarte Doos. Accordingly, the jury took the tasting very seriously indeed.
The most beautiful presentation was achieved by the team whose members included the daughter of Rector Baaijens. The heart-shaped decorations were her work. The cevapcici made by our team reminded the chef of his father's meatballs. We were not sure whether we should take that as a compliment. The overall prize went ultimately to an international team.
By the time the gazpacho is served, the Aeris Brass Band is putting on a show. With the sun on our backs and the scents of the barbecue in the air, this feels like a relaxed little party that perhaps deserves a more appealing name than 'Closing Academic Year'. For most TU/e employees the academic year has not yet closed and for the students too there are exams to sit. But the name 'Community Food Event' captures the spirit perfectly.