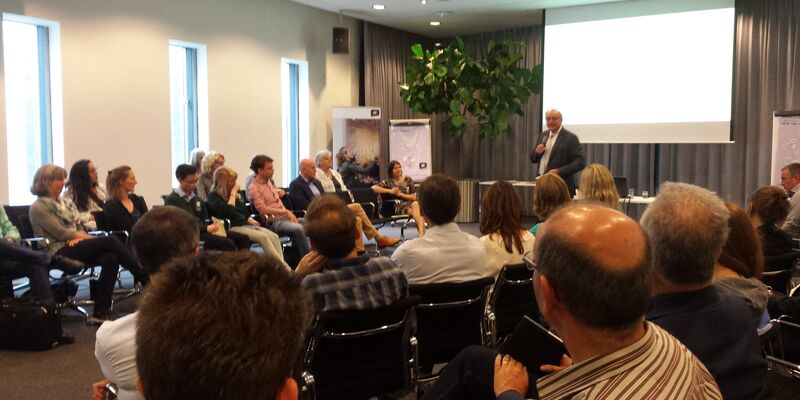 Research

,

Student

,

Campus

08/06/2017
Looking ahead to TU/e in 2030
What kind of education should we be offering in 2030? What will our research targets be by then, and how can we ensure that the results of this research have greater impact, in particular in the Brainport region? Five working groups will apply themselves to these and other questions in the coming months. Yesterday the kick-off took place in Kennispoort with a parliamentary-style dialogue session.
The dialogue session attracted more than forty participants. There was a good balance of students, scientists, and support staff. Rector Magnificus Frank Baaijens gave the opening speech and told the assembly that the search for the right strategy for the coming twelve years will take about a year. The documentation should be ready by the start of the academic year 2018-2019. The project, which will go by the name TU/expedition, has five domains, for each of which the Executive Board has enlisted a leader with driving force.
For example, Lex Lemmens, Dean of the Bachelor College, and his group will look at such issues as the likely impact of digital techniques on TU/e's education; and the group headed by Dean Bart Smolders of Electrical Engineering will investigate how much importance should be accorded to system thinking and interdisciplinarity in the training of TU/e's future engineers.
Five courses
Smolders immediately introduced a proposition into the discussion and supporters and opponents were asked to express their opinion by standing on the right or the left. It was Smolders' contention that in future all Bachelor's students should be required to take courses in the fields of electrical engineering, chemistry, mechanical engineering, computer science and the built environment. This would equip every engineer with a broad base from which to further specialize.
Opinions on the matter were reasonably equally divided. Opponents wondered what this would involve sacrificing in the existing curriculum, and whether this wasn't putting the cart before the horse. Shouldn't a problem first be analyzed? Then, based on the findings, shouldn't it be established what knowledge is needed to solve the problem? Supporters pointed out that in future students will need to be increasingly able to communicate in the language of other disciplines, both while studying and in their subsequent careers.
Interdisciplinary institutes
The question of whether in future research should not be organized much more than at present within interdisciplinary institutes rather than within the departments drew the observation that to some extent this is already the case. "Don't the High Tech Systems Institute and the Institute for Complex Molecular Systems (ICMS) already fulfill this role?" commented a participant. This should already provide proof that such institutes and stand-alone departments can exist alongside one another, with the truly fundamental research taking place within departments, and departmental boundaries never being permitted to hinder interdisciplinary research projects.
That cooperation and collaboration with industry should be further intensified in the coming years was a proposition that almost all those present could endorse. Though with the caveat that we guard against naivety. After all, there is no intention of the university surrendering itself to industry or of letting itself be too much guided in the choice of research.
As well as Lex Lemmens and Bart Smolders, professors Maarten Steinbuch, Jan van Hest and Wijnand IJsselstein are also leading their own working groups. These working groups, for which those interested in participating can still register, will issue their reports at the end of October.
A second Dutch-language dialogue session will be held on Monday June 19 in Kennispoort from 18.30 to 20.30 hrs.
---