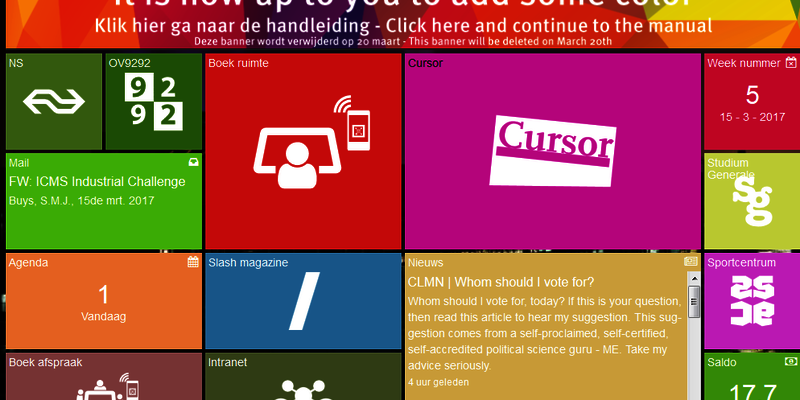 Student

,

Campus

15/03/2017
"Implementation new systems virtually without a hitch"
The implementation of the personal portal and various new systems is proceeding as expected, says Tom Abel, Chief Information Officer (CIO) of TU/e. Already some 7,300 of the 15,000 potential users have logged into the new portal at least once. So far no major problems have occurred. As of March 20 it will no longer be possible for users to get access themselves to the old OASE system.
"The increased dike watch that had been operational since Monday morning March 13 was reduced to a lower level as early as Tuesday afternoon again", Tom Abel explains. In his view the implementation of the new personal portal and the student information system Osiris went "virtually without a hitch". "Although I certainly don't mean to downplay the problems that some people have experienced. We received some forty messages about the fact that the portal did not link up with the user, but that could be resolved rather simply."
If you read between the lines, you can hear that Abel had hoped that some more students and employees had logged into the new portal, "but other people tell me that these numbers are definitely in accordance with the expectations".
No serious problems have occurred, according to the CIO. "The great majority of questions and comments that had come in by the end of Tuesday via the feedback button (125 in all) and via the mail (62), could have been solved if people had bothered to read our earlier emails better", says Abel. "We think that many people also found the answers to their questions among the FAQ."
Over the past two days the aftercare team, which numbers dozens of people, also had to assist with problems concerning the balance statement of the print allowance and for the users of functional accounts. Regarding the latter issue Abel says: "We noticed that secretaries often work with such accounts. We told them that they had to log into their personal accounts, but in many cases they turned out to have forgotten the relevant login code."
Adjustment login code
In a few weeks the obligation will be imposed upon students and employees to make a new login code at least twice a year. Abel: "They will get a message telling them this, after which they are granted two weeks to do that. TU/e is really one of the last organizations where such an obligation is not in force yet."
All the comments and recommendations still coming in now and in the future will be processed by Abel's team. "We are just at the beginning today and are far from using all the possibilities of these new systems. We will be looking at those in the coming months with the user groups and will be adding things. Perhaps students can build their own apps as well in due course."
Finally, Abel notes that OASE will be closed for the users for good on Monday March 20. "That does not imply that all the information on it will then be lost forever, it just means you can't access it yourself anymore. That will then have to run via a manager from your department."