D66 leader Pechtold makes TUs no firm commitment
While D66 leader Alexander Pechtold does not believe the TUs should be penalized for their success in increasing student intake, at the opening of the TU/e's academic year he did not take the opportunity to state how they should be rewarded. Rector Magnificus Frank Baaijens stressed the need to raise the level of public investment in fundamental research in the Netherlands.
by
Han Konings
"Scientists working at TU/e need to collaborate even more than they do at present if as a university we intend to contribute solutions to the major societal challenges facing us," explained rector Frank Baaijens yesterday to his audience in the Blauwe Zaal. "Because these challenges cannot be addressed within any single discipline."
On the contrary, thorough fundamental research is required, and that is an issue that concerns Baaijens. Consequently, the message he had for Alexander Pechtold, who would later give his own speech, was that government investment in this area must be increased substantially. "A mere 39 percent of R&D spending in 2015 was directed at fundamental research, while in Germany this figure was 60 percent," said Baaijens.
In the short term the TUs are requesting additional financial resources to relieve their overstretched staff and facilities. An overstretch that is due to the rapid year-on-year year growth of first-year student numbers. This year is no exception. Student intake at TU/e is up 10 percent on last year, and the final tally of newcomers is expected to be 2,300. This makes an admission freeze inevitable for four programs, said Baaijens, "and for the subsequent year freezes may well be necessary for another four programs."
Support
Pechtold stated that the TUs should not be penalized for their success, but he was not specific about possible forms of support. "Education at the TUs must remain as accessible as possible, and in fact these universities should be encouraged to admit more students.
To the Eindhovens Dagblad newspaper, Pechtold said he was unable to state any figures. "That would derail the cabinet formation. But the four parties (VVD, CDA, D66 and CU, ed.) are committed to education, although the sum will probably be less than the universities would like. Another consideration is that we have less to spend than we thought we did and other wishes to fulfill. But I hope that we can give university education, specially research, some breathing space."
Diversity
Baaijens also announced the establishment of the Young Academy of Engineering Eindhoven, which is modeled on the KNAW's own division of the same name. Dr Patricia Dankers and Professor Johan van Leeuwarden, members of the KNAW's Young Academy, will lead this initiative.
Achieving greater diversity was another point identified by Baaijens as requiring attention in the coming years. "The diversity of our student population is increasing; we are seeing a steady rise in the numbers of women and international students, but the diversity of our staff needs to catch up. We need to create a culture that appeals to everyone, and we must recognize that our university benefits from greater diversity." Professor Eva Demerouti has been appointed as Chief Diversity Officer and tasked with initiating this process.
Finally, Baaijens also announced the annual education awards. The award for the Bachelor's went to Ivo Roghair, assistant professor at the Faculty of Chemical Engineering and Chemistry. This year the award for the Master's went to Professor Yvonne de Kort of the Human Technology Interaction group. De Kort is a regular contributor to Cursor, writing for the column 'TUssen de oren' [Brain Matters].
The event concluded with a performance by illusionist Victor Mids, familiar from the television show Mindf*ck, who amazed the audience with a couple of remarkable tricks.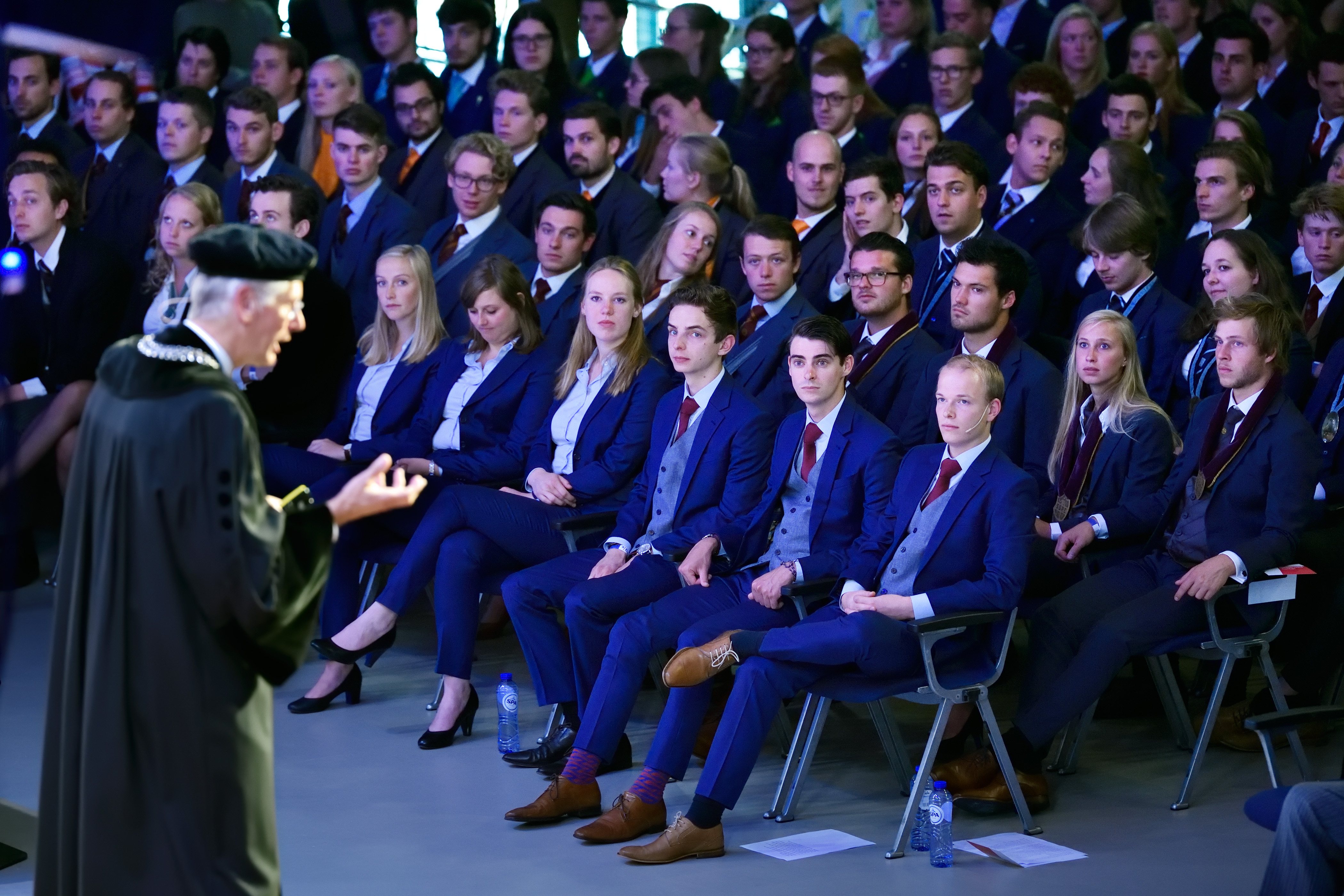 Video gemaakt door Collin Wagenmakers.